The Latest News from PA Chapter of APA…
In this age of the pandemic, health and wellness are more important than ever. Planners are right in the middle of the conversation, providing many ways to improve people's health. This month, read about a cultural district that improves safety, the state's WalkWorks program, providing trails in a physically and socially challenging location, and social determinants of health. Also, in preparation for the upcoming conference in Pittsburgh, learn about Pittsburgh's Penn Avenue and Emerald View Park. Enjoy!
---
Educational Opportunities

The next Webinar Wednesday is Impact of COVID-19 on Traffic and Road Safety in the City of Pittsburgh, PA. In March 2020, the World Health Organization declared COVID-19 a world-wide pandemic. In response to that, countries across the world and states around the US introduced public health measures to contain and reduce its spread including closures of educational institutions, non-essential businesses, events, and activities, as well as working from and staying at home requirements. This session will dig deep into that and will present various factors that it found dominant during this period. This session will also discuss how the power of big data can help transportation professionals to better understand past and predict future traffic safety of our community. The deadline to register is August 31.
If you are interested in sponsoring a Webinar Wednesday session or have a session for Webinar Wednesday, please contact us. Send your request to info@planningpa.org. 
More Educational Opportunities:
Penn State Extension presents Short Term Rental Trends and How to Craft an Ordinance to Handle Them, September 15. More information is available online. 
Over 40 classroom sessions at the APA PA Annual Conference, Planning for an Uncertain Future, October 17-19, 2021. More information is available online.
---
Annual Conference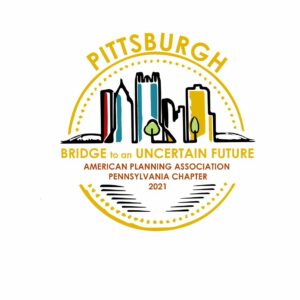 The 2021 APA PA Annual Conference, Planning for an Uncertain Future, will be IN-PERSON on October 17-19, 2021 at the Sheraton Pittsburgh Hotel at Station Square. Conference announcement and registration is available online. 
Over 40 classroom sessions
5 mobile workshops offered
Up to 12.5 CM credits, including Law and Ethics
Welcome Reception at Grand Concourse
Opening Plenary "Regional
Perspectives of Planning in Southwest Pennsylvania" with
Lance Chimka, Vincent Valdes and Katharine Kelleman
Pitkin Lecture "Mapping the Dollars and Sense of Land Use Patterns"with Joe Minicozzi, AICP
Monday reception with the Exhibitors
Tuesday Plenary "Grounded in Green Stormwater Infrastructure" with Ariam Ford, MCP
and more!
You can book your hotel room. The chapter only has a certain number of rooms in our block and once it's full, IT'S FULL so don't wait…book now.
A big thank you to our sponsors, exhibitors and advertisers!
Also, Healthy Communities will be spotlighted on Monday, October 18. Check out the conference announcement (page 12) for more information. The day includes:
Exciting sessions centered around this emerging topic.
Discounted rate available for health professionals and advocates.
Networking session to meet colleagues from around Pennsylvania interested in healthy communities.
---
Opportunities for Giving
Each year the Chapter offers a scholarship to support individuals seeking funds for academic degree programs, internships, and professional development activities.  If anyone would like to contribute to the Chapter's Scholarship fund, donations can be made here. We accept all major credit cards, or you can send a check. Please make your check payable to "PA Chapter of APA Scholarship Fund" and mail it to P.O. Box 4680, Harrisburg PA 17111.
---
Great Places in Pennsylvania: Penn Avenue, Pittsburgh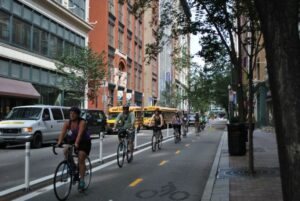 Penn Avenue in Pittsburgh is a five-mile corridor stretching from the downtown to East Liberty. The corridor includes many great neighborhoods, with retail shops, restaurants, and housing. Penn Avenue was designated as a Great Place in the Great Streets category in 2016.
Within the downtown cultural district, Penn Avenue is lined with retail shops, restaurants, pocket parks, parking, and public art initiatives. Entering the Strip District, Penn Avenue transforms into a bustling marketplace and pedestrian way. Beyond the Strip, Penn Avenue bifurcates into several East End business districts and then continues into East Liberty where it fronts the newly renovated East Liberty Transit Center and associated mixed-use development. Penn Avenue has significant multi-modal infrastructure, providing its residents and visitors with walking, biking, and transit opportunities.
The downtown portion of Penn Avenue is home to the Penn Avenue Arts and Cultural District. Once known as the Penn Avenue Arts Initiative, the Arts and Cultural District is a collaboration between the Bloomfield-Garfield Corporation and the Friendship Development Associates. The Penn Avenue Arts and Cultural District is home to Unblurred: First Fridays on Penn, which occurs monthly. Held between the 4800 and 5500 blocks of Penn Avenue, Unblurred includes a mix of photography, dance, painting, sculpture, music and spoken word performances. In 2020, Unblurred went virtual to provide safe creative opportunities during Covid restrictions. Unblurred returned in person in Spring 2021. Penn Avenue is also home to Garfield Market Night which takes place during Unblurred between May and September and includes food and craft vendors. To learn more, visit pennavenue.org/.
---
PA WalkWorks: Making our Streets Safer for Pedestrians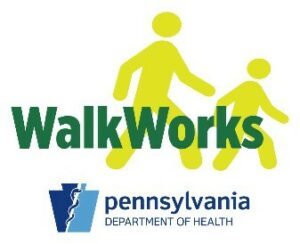 As planners, most of us know the importance of having safe walking areas within and around our communities. Having a walkable community provides essential health and safety benefits, including reducing anxiety and depression, lowering the rate of obesity, decreasing pedestrian-vehicle risks, attracting business, and increasing home values. Along with these benefits, walkable communities are more inclusive as they can reduce a family's transportation costs and support those with disabilities in providing accessible spaces for movement.
To help improve walkable communities in Pennsylvania, WalkWorks was created. Sponsored by the Pennsylvania Department of Health and the Pennsylvania Downtown Center, WalkWorks aims to establish new or improved pedestrian, bicycle, and public transit transportation systems, thereby furthering its objective of increasing activity-friendly routes and connectivity to everyday destinations. In addition, WalkWorks identifies and promotes safe walking routes, offers social support through guided, community-based walking groups, helps schools develop walk-to-school programs, and addresses local policies to increase safe walking routes.
PA Walkable Communities Collaborative also provides funding to assist municipal entities with developing Active Transportation Plans, Complete Streets policies, and/or Vision Zero policies. Their most recent grant recipients are anticipated to be announced on September 3, 2021. For more information on their program, toolkits, and resources, check out their website at pawalkworks.com.
---
Award Winner Spotlight: Emerald View Park Trail Plan
In 2014, the Mount Washington Community Development Corporation won a Planning Excellence Award for Implementation for their Emerald View Park Trail Plan implementation. This work greatly improved one of Pittsburgh's most iconic locations.
Emerald View Park, atop Pittsburgh's Mount Washington, is home to one of the nation's most beautiful vistas, but this park has not always been as beneficial to its neighbors as it should have been. In 2010, the city and Mount Washington CDC completed a plan for a 19-mile trail system in the park and through green spaces around the neighborhood. There were large challenges – difficult terrain, homeless encampments, and illegal dumps. By 2014, 10 miles of trails had been built. Work was primarily accomplished by the Emerald Trail Corps, a workforce development program for adults, and Student Conservation Associates. The trails have become a neighborhood asset providing public space for neighborly interaction, and are growing as a visitor attraction within ½ mile of downtown Pittsburgh. View plan.
---
The time you spend with doctors, nurses, and other care givers has surprisingly little to do with your overall health and wellness. Most of your health is rooted in your social and physical environment: your access to healthy food or a livable wage, the presence/absence of stressors, how easy it is for you to get out and move around, the social cohesion of your neighborhood, the shops and services you can both get to and afford. These factors are often called Social Determinants of Health (SDOH), and their power is considerable: your zip code can be a greater predictor of wellness than your genetic code.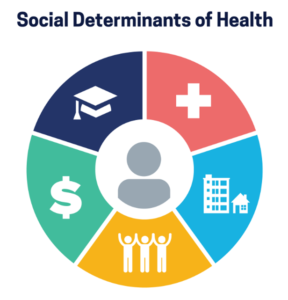 Amazingly for those in planning, this means that we, as designers of communities, often have as much or more potential to drive positive health outcomes as the people who write prescriptions and fix broken bones do. Connections between community and health are clear in planning for recreation, transportation, and hazard mitigation, but the profession's role in public health can be defined even more broadly through community development activities.
This is a key way in which planners can act to address inequality. As healthcare advisory firm Healthbox recently noted, "Research shows that race, place, and health are deeply intertwined." For example, racial disparities are often marked by pervasive and drastic differences in housing stock, economic opportunity, educational access, environmental contamination, and many other factors that affect wellbeing so much so that average life expectancy declines.
You can explore this in your own area using the National Center for Health Statistics' interactive life expectancy map. It is not uncommon for life expectancies, when mapped by zip codes, to vary by 10 years or more in the same community. The image below shows these disparities across a broad swath of central Pennsylvania.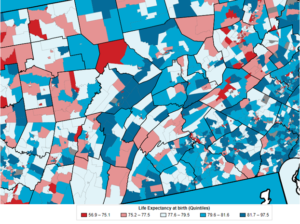 Planning within the SDOH framework is both an opportunity to directly affect lives and a challenge to tackle both design on the ground and systemic, structural roots of disparities. Good places to learn more are the PA Chapter's Healthy Communities Task Force, the US Dept. of Health & Human Services' Social Determinants of Health webpage, and the Urban Institute's Social Determinants of Health webpage.