When: October 17-19, 2021
Where: Sheraton Pittsburgh Hotel at Station Square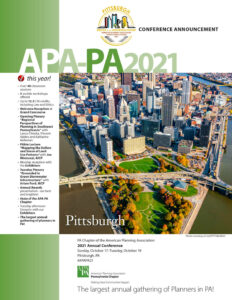 PLEASE NOTE: Last day of registration is October 11, 2021. There is no onsite registration.
Conference Update (as of 10/4/21):
Pennsylvania Chapter of the American Planning Association (APA PA) will be having our Annual Conference in Pittsburgh. Unless state guidelines change for in-person gatherings, APA PA will have our in-person conference. APA PA supports measures to ensure the health and safety of our attendees and will follow guidelines put forth by the CDC, State of Pennsylvania, Allegheny County and the Sheraton Pittsburgh Hotel at Station Square.
Attendees will be encouraged to wear a mask throughout the conference
Attendees may remove their masks when eating or drinking
Conference speakers may remove their masks when presenting
Meeting room setup will be spaced as best as possible (few will be set to capacity)

Masks are encouraged in meeting rooms

APA PA and the hotel will have hand sanitizer throughout the conference
APA PA will have disinfect wipes throughout the conference
APA PA will provide a travel bag with hand sanitizer, mask and a no-touch tool
APA PA will also have additional disposable masks
APA PA will not be liable for any real or perceived exposure to COVID-19 or other transmitted condition. There is an inherent risk of exposure to COVID in any public space and exposure is possible despite following all recommended guidelines. By attending APA PA's Annual conference you are assuming all risks related to exposure to COVID-19.
If you do not feel comfortable with APA PA measures, then please do not register for the conference. There is no virtual component to the conference.
As an alternative, APA PA has offered Webinar Wednesdays. Webinar Wednesdays are normally held on the first Wednesday of every month. APA PA has offered a variety of topics to tailor everyone's needs along with CM credit. Please check out our calendar.
---
Fees*
*There will be no onsite registration
Non-Member
(Out of state APA members are considered non-members. If you're not a APA member, then you're considered a non-member.)

| | | |
| --- | --- | --- |
|   |   | Regular Rate |
| Full |   | $490 |
| Sun |   | $185 |
| Mon |   | $315 |
| Tues |   | $280 |

---

Member
(APA members who belong to PA Chapter are considered PA Chapter members)

| | | |
| --- | --- | --- |
|   |   | Regular Rate |
| Full |   | $440 |
| Sun |   | $135 |
| Mon |   | $265 |
| Tues |   | $230 |

---

Students
(For full-time students; please send your class schedule to info@planningpa.org)