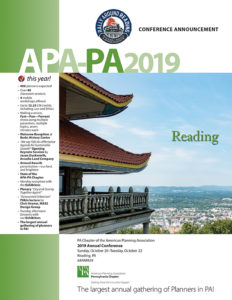 When: October 20-22, 2019
Where: DoubleTree by Hilton Hotel Reading
Over 40 concurrent sessions
Welcome Reception at Berks History Center
Opening Keynote: We say YES! An Affirmative Agenda for Sustainable Growth with Jason Duckworth, Arcadia Land Company
Kevin Barnhardt, Lucine Sihelnik and Jeffrey Waltman, City and County Together Again!
Pitkin Lecture: Extroverted Urbanism with Chris Kroner, MASS Design Group
Annual Awards
State of the Chapter Address
Four mobile workshops
Law and ethic sessions
Reception with Exhibitors 
and so much!
Visit the event website for information and to register.
---
2019 REGISTRATION PRICING (*pricing below reflect PA Chapter member rates)
Save big when you register by September 13! Emerging Planners, Planning Commissioners/Officials, Health Advocates/Professionals and Retired Planners receive a 20% discount off the Professional Planner registration fees. Discount applied during online registration. Discount does not apply to mobile workshops.
If you're a PA Chapter member* you will receive the following fees below. Please make sure when you checkout you add the discount code: PAchapter (memberships will be verified).
If your're an out-of-state APA member you can use the discount code: 

APAoutofstate

Emerging Planners can receive 20% off their registration fee; use discount code: 

EP20off

Planning Commissioners/Officials can receive 20% off their registration fee; use discount code: 

PC20off

Retired Planners can receive 20% off their registration fee; use discount code: 

RP20off

Health Advocates/Professionals can receive 20% off their registration fee; use discount code: 

HC20off
Professional Planner    

    
       Regular
Rate
       Late/Onsite
Rate
  Full Registration
(Best Deal!)
  
$440*
$490*
Sunday
  
$125*
$175*
Monday
  
$255*
$305*
Tuesday
  

$220*

$270*

---




Student
  
 
 
Sunday
  
$60
$60
Monday
  
$75
$75
Tuesday
  
$75
$75
---
FINE PRINT (When you register for the conference you agree to the following below)
Fee, Refund and Other Policies:
Non-Members (you do not belong to any APA Chapter) add $50.00
APA Members from out of state add $20.00
Late and Onsite registrations: An additional $50.00 administrative fee applies to all registrations received after October 1.
All paid registrations will receive an email confirmation of registration (when a valid email address is provided).
Registration fees include all applicable conference sessions and materials, and the meals listed herein. They do NOT cover lodging accommodations, any non-conference meals, and travel expenses.
The registration fee is fully refundable if the PA Chapter of APA office receives written notification postmarked or emailed no later than September 20, 2019.
Cancellations received after September 21, 2019 but before October 1, 2019, will be subject to a $50.00 administrative fee. If the cancellation is received after October 1, 2019 we are not able to provide a refund.
NO-SHOWS WHO HAVE REGISTERED, BUT HAVE NOT PAID, ARE STILL LIABLE FOR THE REGISTRATION FEES.
In the unlikely event of cancellation of the conference, the Pennsylvania Chapter of the APA's liability is limited to 100% refund of registration fees and does NOT include penalty fees on travel tickets, deposits for hotel accommodations, or any other incurred expenses.