When: October 2 – 4, 2022
Where: Marriott Lancaster at Penn Square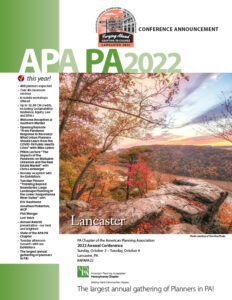 PLEASE NOTE: Last day of registration is Tuesday, September 27, 2022. There is no onsite registration.
APA PA supports measures to ensure the health and safety of our attendees and will follow guidelines put forth by the State of Pennsylvania and the Lancaster Marriott at Penn Square, APA PA will not be liable for any real or perceived exposure to COVID-19 or other transmitted condition.
There is an inherent risk of exposure to COVID-19 in any public space and exposure is possible despite following all recommended guidelines. By attending APA PA;s Annual Conference you are assuming all risks related to exposure to COVID-19
If you do not feel comfortable with APA PA measures, then please do not register for the conference.
---
Fees*
*There will be no onsite registration
Non-Member
(Out of state APA members are considered non-members. If you're not a APA member, then you're considered a non-member.)

 
Regular Rate
(Sept 27 is the last day to register)
Full
$500
Sun
$195
Mon
$325
Tues
$290

---

Member
(APA members who belong to PA Chapter are considered PA Chapter members)

 
Regular Rate
(Sept 27 is the last day to register)
 
 
Full
$440
Sun
$145
Mon
$275
Tues
$240

---

Students
(For full-time students; please send your class schedule to info@planningpa.org)