Looking for a Professional Planner? Please feel free to contact the following members that have chosen to promote their business on our site:
Interested in advertising on our website?  Call 717-671-4510
---
4ward planning, Inc
Todd Poole
1650 Market Street, Suite 3600
Philadelphia PA 19103
t: (267) 480-7133
e: tpoole@landuseimpacts.com
w: http://landuseimpacts.com/index.html
4ward Planning, a land-use economics consultancy, was established to assist local governments and developers achieve sustainable development outcomes through responsible, future-based planning. Our approach, founded in socioeconomic analysis, seeks the optimum development or redevelopment program for a community, based on best-case outcomes within the social, environmental, fiscal, and economic systems (the "4" in 4ward Planning).
---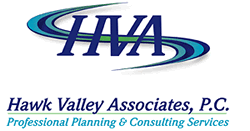 Hawk Valley Associates, P.C.
J. Jerome Skrincosky, AICP
207 Maple Grove Road, Mohnton, PA 19540
t: (610) 775-7392
f: (610) 775-7396
e: Jerome@HawkValley.com
w: www.HawkValley.com 
Hawk Valley Associates (HVA) is a consulting firm specializing in community planning services. With over 30 years of professional experience in representing municipalities within Pennsylvania, HVA offers innovative and strategic solutions that are based upon fundamental principles. We have developed a variety of plans and ordinances that have lead to orderly growth by providing direction for the next generation to follow. Based upon our municipal experience combined with our unique qualifications, HVA has the capacities to meet the needs of your community. We invite you to visit our website, which outlines our services, team concept, contact information and recent achievements. Please contact us to learn more about HVA's philosophy of "planning today for the needs of tomorrow".
---
Mackin Engineering Company
Dennis Martinak, AICP
RIDC Park West
117 Industry Drive
Pittsburgh PA 15275
t:(412) 788-0472
e:dmartinak@mackinengineering.com
w: http://mackinengineering.com/
Mackin Engineering Company has been a provider of engineering and consulting services since 1960. Our firm serves a broad array of public and private sector clients, providing innovative solutions for all phases of a project, from conception to attainment.  Mackin Engineering Company looks forward to growing by meeting the increasing need to maintain, upgrade, and expand our aging infrastructure system in Pennsylvania and beyond. We stand at an important crossroad in our state and nation. Mackin has been truly blessed to provide services for our clients for over 50 years.