The Latest News from PA Chapter of APA…
In preparation for the upcoming conference in Pittsburgh, we are featuring articles about Pittsburgh, as well as the Chapter's Healthy Communities in Pennsylvania Task Force. In this issue, learn about Pittsburgh's Market Square, Hazelwood Green, and Rebecca Wetzler, the new chair of the Task Force. Enjoy!
---
Educational Opportunities

There will not be a Webinar Wednesday in October. Stay tuned for a webinar in November. Be sure to check out the calendar for details.
If you are interested in sponsoring a Webinar Wednesday session or have a session for Webinar Wednesday, please contact us. Send your request to info@planningpa.org. 
More Educational Opportunities:
Penn State Extension presents So You Want Agriculture in Your Community…October 20. More information is available online. 
Over 40 classroom sessions at the APA PA Annual Conference, Planning for an Uncertain Future, October 17-19, 2021. More information is available online.
---
Annual Conference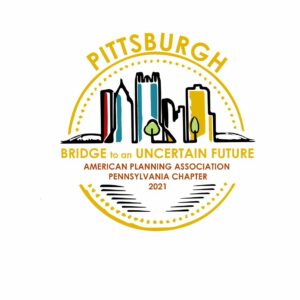 The 2021 APA PA Annual Conference, Planning for an Uncertain Future, will be IN-PERSON on October 17-19, 2021 at the Sheraton Pittsburgh Hotel at Station Square. Conference announcement and registration is available online. Last day to register is October 11, 2021. There will be NO onsite registration.
Over 40 classroom sessions
4 mobile workshops offered
Up to 12.5 CM credits, including Law and Ethics
Welcome Reception at Grand Concourse
Opening Plenary "Regional
Perspectives of Planning in Southwest Pennsylvania" with
Lance Chimka, Vincent Valdes and Katharine Kelleman
Pitkin Lecture "Mapping the Dollars and Sense of Land Use Patterns"with Joe Minicozzi, AICP
Monday reception with the Exhibitors
Tuesday Plenary "Grounded in Green Stormwater Infrastructure" with Ariam Ford, MCP
and more!
APA PA supports measures to ensure the health and safety of our attendees and will follow guidelines put forth by the CDC, State of Pennsylvania, Allegheny County and the Sheraton Pittsburgh Hotel at Station Square. If you do not feel comfortable with APA PA measures, then please do not register for the conference. There is no virtual component to the conference.
A big thank you to our sponsors, exhibitors and advertisers!
Also, Healthy Communities will be spotlighted on Monday, October 18. Check out the conference announcement (page 12) for more information. The day includes:
Exciting sessions centered around this emerging topic.
Discounted rate available for health professionals and advocates.
Networking session to meet colleagues from around Pennsylvania interested in healthy communities.
Lastly, Mobile Workshops at the Conference
Don't forget to sign up for some fabulous mobile workshops happening at this year's annual conference! All mobile workshops require an extra fee to cover logistics. Please wear comfortable clothing and shoes suitable for walking. See the conference announcement for more details (starting on page 14).
---
Opportunities for Giving
Each year the Chapter offers a scholarship to support individuals seeking funds for academic degree programs, internships, and professional development activities.  If anyone would like to contribute to the Chapter's Scholarship fund, donations can be made here. We accept all major credit cards, or you can send a check. Please make your check payable to "PA Chapter of APA Scholarship Fund" and mail it to P.O. Box 4680, Harrisburg PA 17111.
---
Great Places in Pennsylvania: Market Square, Pittsburgh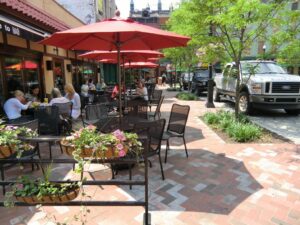 Market Square in downtown Pittsburgh is a classic example of urban design going astray and then being corrected with a refresh and renewal. Market Square has been the center of Downtown Pittsburgh since the original street grid was laid out in the late 1700's. Over the past two centuries, the 1.5 acre square was modified as the city matured around it, oscillating between an open space and a site for market buildings. In the early 1960s, the square was redesigned, with roads fragmenting it into quadrants, speeding cars and buses making the square dangerous for pedestrians, and inefficient lighting and dense tree cover encouraging illicit activities.
After a full redesign, Market Square once again became a vibrant, cohesive, flexible, and pedestrian-oriented oasis in the dense urban fabric of Downtown Pittsburgh. Recognizing its central role in Pittsburgh's revival, the chapter identified Market Square as a Pennsylvania Great Place in 2015.
Today, Market Square promotes a wide range of programing, including a farmer's market, live music, and children's activities. The square is like a gallery, where people and events are the featured exhibition. On any given day, the space might be transformed into a market, a performance space, or a festival. While you are at the chapter conference in October, you should walk across the river to the downtown and check out Market Square, maybe grabbing a meal, cup of coffee, or glass of beer. Learn more about the square at the merchant's association website: marketsquarepgh.com
---
Hazelwood Green, a former steel mill site, is located within the Greater Hazelwood neighborhood in Southeast Pittsburgh. This 178-acre, brownfield site is proposed to be transformed into a riverfront center of innovation. Situated along the Monongahela River  The land development plan is designed to meet LEED for Neighborhood Development Plan sustainability standards. It also merges components of the Living Community Challenge, WELL Community Standards, and utilizes Pittsburgh's p4 Performance Measures to evaluate development proposals.
Approximately 17% of Hazelwood Green's total acres are reserved for public space, with street design also prioritizing pedestrian and bicycle access and safety. Hazelwood Green has four principles of development:
Advance human well-being
Inspire Innovation
Regenerate the ecology
Create Resilient Places
At full build-out, the site is anticipated to comprise 4.3 million square feet of non-residential development (e.g. office, retail, community uses) and 3.6 million square feet of residential development. The plan for Hazelwood Green is to create a healthy balance of uses at the site, including housing and jobs. Because of the scale and site conditions, three distinct districts were created. The Mill District, the River District, and the Flats District. There is a plaza for outdoor concerts, movies, and events, a central courtyard with flexible space for events, informal gatherings, and everyday use. The construction of the plaza is complete and open to the public.  For more information on the project, you can view the plans and current development at hazelwoodgreen.com.
---
Meet Rebecca Wetzler, AICP, Chair of Healthy Communities in Pennsylvania Task Force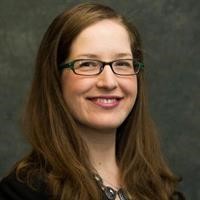 We had an opportunity to catch up with Rebecca Wetzler, the new chair of our Healthy Communities in Pennsylvania Task Force, to learn more about her background and interests, as well as her views on the critical intersection of health and planning.
What is your current job title/responsibilities?
My job title is Planning Manager at Michael Baker International. I lead hazard mitigation plan updates across PA and act as a technical advisor to FEMA Region 3 on a Community Engagement and Risk Communications contract.
Previous positions you would like highlighted?
My career path has been a bit circuitous, though all connected to an interest in the overlap of health and planning, starting as a science teacher, then emergency manager, transportation safety and security specialist to now.
How have you engaged with Healthy Communities in Pennsylvania Task Force?
I started as a member and was fascinated by the discussion, learning so much on each call. Justin Dula (past Chair, current Advisor) engaged so many different folks from different sectors. I started taking notes to remember everything and then sending them to Justin in a pseudo-officer role. This new role as Chair is an honor, and I'm working on our strategic plan now for 2022.
Educational background/volunteer positions you would like to share
I have a Masters in City Planning, Masters in Education, and Bachelors in Psychology. One of my favorite volunteer roles was with the Museum of Science in Boston, learning about and co-presenting various live animals- from a 16 foot amelinistic Burmese python (took five of us to lift!) to a very sweet porcupine named Harriet.
How does planning intersect with healthy communities?
How does it not? We seem to be frequently siloed- planners OR healthcare practitioners – but there are SO many connections. How often are doctors consulted on final comprehensive plans or zoning and land use regulatory updates? Are planners invited to any medical summits for emerging trends and challenges in healthcare? In my mind, the role of the planner is to support a person through access- to parks, to a job, to food, etc. The role of the doctor is to make sure the person can access those things physically- through health monitoring, surgeries, etc.
We talked in the Task Force recently about some of the PA stats- we're the most floodprone state in the country, and, because of the age of many of our communities- built along rivers for trade – there are a lot of homes and businesses that get flooded. Community evacuation shelters often serve high calorie, high salt shelf stable foods- not great for the 50% of Americans with hypertension. Disasters are individual and while flooding is common, so are house fires, nearby gas leaks, and all sorts of other challenges. Long term, many of these displaced folks endure a huge emotional trauma as their homes are damaged, finances put in jeopardy, and health threatened by limited access to water, food, family and friend connections, etc. All the disruptions- including to their sleep- may skew the efficacy of whatever meds they're on. And so much of this spiral could be avoided. What if the community invested more in parks and sidewalks to encourage physical activity while increasing pervious surface? This reduces the risk to the individual AND to the home. What if there were regular programs in the parks to build community connections so folks weren't alone in a disaster? These programs exist, but they're so often executed independently.
Healthy communities start at the individual level and thinking about all the stress factors on an individual. One of our members, Michelle Schasberger, works closely with YMCAs, thinking about how to provide daycare facilities near the rapidly growing Amazon warehouses. As a mom- I can tell you that daycare is a critical part to my success as an employee and mental health overall.
What is a project you are particularly proud of?
I co-developed a series of substantial damage materials and training presentations with FEMA and they seem to be useful. The FEMA folks won a national award and the materials are being used all over. I recently touched base with one of the original pilot communities and they said the administrative procedure they developed during the training is still working well for them.
What are your focus areas and goals as the chair of the Task Force?
We shared a survey a couple months ago to get a sense of where folks would like to go. We are going to have an overarching theme of health and equity as we look at increasing physical activity, access to parks, and pandemic impacts. One example a group member, John Turack, raised as a concern is how to support food access in the pandemic- when the big box stores get the online delivery business but are often in car-oriented locations, how do we make sure food access does not become *more* challenging for folks not using those services.
We're planning to start developing some best practices/ white papers to expand our conversation beyond the Task Force. We've also talked about providing some guidance on nontraditional partners to consider including in the planning process and what our role could be with encouraging a change there.
The Healthy Communities in Pennsylvania Task Force has representatives from all over PA from all different agencies. We have a long list of folks we're looking to connect to the Task Force as we kick off 2022. If you're interested in joining us, please reach out- we meet every other month on the first Tuesday afternoon.
We're currently planning for the Healthy Communities Day (October 18th) and have a great line up of presenters. We look forward to seeing everyone at APA PA in Pittsburgh!
What current trends do you see in planning for healthy communities?
The pandemic seems to have raised a lot of awareness about mental health and some of the supports and tools available. I hope there will be some long-term changes- even setting up our park benches to have a more social component.
Also, I think folks have seriously undervalued trees- carbon capture, water retention, cooling effects, the connections between tree canopy cover and lower asthma and obesity rates etc. Some of the recent books about how tree networks work and how disconnected so many of our current trees are is fascinating. Applying the emergency management lens and thinking about how climate change is going to stress a lot of our trees, leading to more downed trees and power outages, I hope folks start to look at how we support trees systems and networks and the true cost of cutting down a tree, annualized for years into the future.
Also this wasn't a question, but we've been talking through a few recent publications and resources, included below for anyone looking to learn more. Please also send any recommended reading if there is something you think would further the conversation!
PennDOT Connects provides free technical assistance to municipalities to jump-start community planning and address local mobility needs. PAConnects@pa.gov, 717-710-2090
For more information on the Healthy Communities in Pennsylvania Task Force, please visit our website. 
You can join the group through APA PA's contact us or through our google group.