The Latest News from PA Chapter of APA…
One of the roles of planners is to advocate for planning issues that have been historically overlooked, underfinanced, or pushed aside by market forces. Alternative and active transportation certainly falls into this category, and planners have been making great strides in supporting bike, pedestrian, and public transportation initiatives. This month, we acknowledge National Bike month and highlight a community bike effort from Aliquippa. Enjoy!
---

The next Webinar Wednesday, The Impact of COVID-19 on School Districts… is scheduled for June 2, 2021 from 12:00 PM to 1:15 PM. The webinar will address the question of universal access to WiFi and broadband, online learning's implications for more flexible and customizable instructional models, and the role of schools—and school facilities—as community resource hubs. Both innovation opportunities and dire warnings will be considered as a full school year of pandemic-impacted schooling wraps up. The long-term impacts of COVID-19 on school districts and potential impact of communities will also be addressed. The deadline to register is June 1.
If you are interested in sponsoring a Webinar Wednesday session or have a session for Webinar Wednesday, please contact us. Send your request to info@planningpa.org. 
---
Upcoming Training Events
Penn State Solar Law Symposium:  June 15th and 17th from 12:00 p.m. to 3:30 p.m.
This symposium is targeted at those with both beginning and intermediate levels of knowledge about photovoltaic electrical generation for the grid and is designed in a progressive manner with each session building upon the knowledge gained in the prior session. Upon completion, an attorney, landowner, government professional, educator or other interested attendee will have a well-rounded understanding of the legal facets of the proliferation of utility-scale solar development project proposals in Pennsylvania, across the region, and throughout much of the United States. Register here.
---
Support the Conference!
The Pennsylvania Chapter of the American Planning Association's 2021 Conference will be held on October 17-19 at the Sheraton Pittsburgh Hotel at Station Square, Pittsburgh. We invite you support the conference by sponsoring, exhibiting or advertising. The conference provides a unique and effective opportunity to showcase your work and capabilities to planning professionals and policy makers from across the Commonwealth. It's also one of the ways to support planning in Pennsylvania by providing valuable networking, education, and development for planners. 
---
2021 Planning Awards: Call for Nominations
The PA Chapter of APA is pleased to invite nominations for the 2021 PA Chapter of APA Planning Awards, to be presented at the 2021 Annual Conference. Nominations are encouraged for plans, projects, programs, practices, and leaders. All award submissions are due by June 30, 2021.Showcase the best and brightest of Pennsylvania planning! More information here.
---
Attention AICP Members in Reporting Cycle 2019-2020
As you may or may not be aware, APA extended the 2019-2020 reporting period until 12/31/21 on account of COVID and you are currently in the grace period. As of January 1, 2021 you are a part of the 2022-2023 reporting period. Please make sure to log your credits before the end of your grace period on 12/31/2021 so that your membership does not lapse.
---
Opportunities for Giving
Each year the Chapter offers a scholarship to support individuals seeking funds for academic degree programs, internships, and professional development activities.  If anyone would like to contribute to the Chapter's Scholarship fund, donations can be made here. We accept all major credit cards, or you can send a check. Please make your check payable to "PA Chapter of APA Scholarship Fund" and mail it to P.O. Box 4680, Harrisburg PA 17111.
---
Bikes as a Community's Connective Tissue in Aliquippa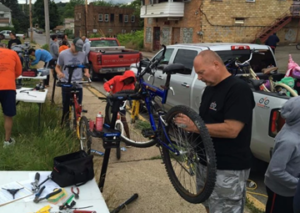 Aliquippa, a city of about 10,000 people in Beaver County PA, is a 2021 Governor's Award for Local Government Excellence recipient. The recognition honors a variety of community development activities, including an innovative partnership with faith-based Communicycle. Communicycle uses bikes to increase peoples' engagement with each other and their community, while also giving people of all ages safe opportunities for physical activity and to join with others to learn about maintenance and repairs. To do this, Communicycle collects used bikes, makes repairs, and distributes them in Aliquippa and surrounding towns. For some cyclists, their Communicycle bike is the only working vehicle available and, therefore, a critical piece of the puzzle in finding and maintaining work. Many adults and families with children who receive free bikes through Communicycle "pay it forward" with acts of kindness through community service projects. More info is available on Communicycle's website (communicycle.org) and on social media.
---
May is the perfect time of year to get out your bicycle and use human power for transportation and recreation. Many organizations ranging from the Coalition for Alternative Transportation (LVCAT.org) to the League of American Bicyclists (bikeleague.org) are celebrating and encouraging active transportation this month. Bike to work day/week is a popular event that many organizations use to promote bicycling in their communities. We suggest you check out these resources to find out more.
Whether it is for a daily commute to work or for a quick trip to the store for an errand, bicycling is one of the best ways to reduce pollution, to reduce climate changing greenhouse gases, to reduce traffic congestion, and to get exercise all at the same time. Think of all the money you can save on gas and gym memberships too!
A few tips for those folks venturing out on two wheels this year:
Do a quick check of your bike before leave including air in your tires, brakes and chain
Follow the rules of the road. Ride with traffic, follow traffic laws and use hand signals to let drivers know when you are turning (Check out the image below for ilovebicycling.com)
Use a backpack or pannier (bag attached to your bike frame) to carry your stuff from the store
Always wear a helmet!
If you are riding on a shared use path that is used by walkers and bikers, remember these rules:
Ride on the right, pass on the left
Yield to walkers and oncoming traffic
Slow down in crowded areas or passing folks with dogs or smaller children who tend to make unexpected moves
---
2021 Governor's Awards for Local Government Excellence
In April, Governor Wolf and the Department of Community and Economic Development announced the 2021 Governor's Awards for Local Government Excellence. These awards recognize local officials' dedication to improving public services through innovative initiatives in ten categories. This year, award winners were honored during a virtual awards ceremony on May 19, 2021.
The Chapter was pleased to nominate Peter Wulfhorst for an individual leadership award. Peter has been a strong leader on planning issues in Northeast Pennsylvania since the late 1980s, when he was the Pike County planning director. Learn more about Peter's contributions here.
A list of the award winners in each category is below. To learn more about each award winner, visit here.
Individual Award Winners
Jeffrey Snyder, Commissioner, Clinton County
Peter Wulfhorst, Extension Educator with Penn State Extension (nominated by APA-PA)
Gene Miller, Supervisor, Pinegrove Township, Venango County
Dwight D. Hoare, Manager, St. Mary's Area Water Authority, Elk County
Danene Sorace, Mayor, Lancaster, Lancaster County
Thomas C. Gramling, Sr., Councilman, Westmont Borough, Cambria County
Nathan Silcox, Hampden Township Commissioner, Cumberland County
Kathy Rader, Township Supervisor, Upper Macungie Township, Lehigh County
Building Community Partnerships
Fiscal Accountability and Best Management Practices
Information Technology
Plainfield Township
South Whitehall Township
Innovative Planning & Sound Land Use Practices
Lehigh Valley Planning Commission (LVPC)
Intergovernmental Cooperation
Lower South Valley Council of Governments (LSVCOG) and Mountain Council of Governments (MCOG) 
Promoting Community/Economic Revitalization
Tri-COG Land Bank (TCLB)
City of Clairton
City of Aliquippa
Responding to Adversity
Local Government Academy
Delaware County
Health and Wellness Initiatives
Northampton County
Millbourne Borough