The Latest News from PA Chapter of APA…
In July, the great outdoors beckons. Fortunately, Pennsylvania offers abundant opportunities for exploring our wild and scenic places, along with nearby towns and historic sites. This month, we provide an overview of National Park Service sites in Pennsylvania, a summary of the state plan for parks, a description of the Eales Preserve near Scranton, and a tourist's perspective on outdoor activities along the Lower Susquehanna River. Enjoy!
---

Planning for TOD – A Way to Transform your Community
August 2 from 12:00 PM – 1:00 PM

This session will provide an overview of TOD as a planning concept that benefits communities by emphasizing increased use of alternative modes of transportation and encouraging sensitive infill development within walking distance of transit amenities. Five key design elements for successful TOD projects and related best practices will be highlighted using case study developments. The audience will become familiar with the station area typology approach that was used to reflect the diversity of station areas in Montgomery County. This approach allows for the model ordinance language to be tailored to the scale and character of each typology and makes the model ordinance more applicable to communities outside of Montgomery County. This session will also highlight significant aspects of the comprehensive model ordinance including permitted uses; height bonus options; building, open space, and landscaping design standards; and parking management and design. Deadline to register is August 1.
CM credit is pending approval. You must attend the webinar live to earn CM credit.
**The Pennsylvania Chapter is not responsible for the materials or opinions of the speaker(s) you will hear**
---
2023 Annual Conference: October 15-17
Annual Conference will be at Hilton Scranton and Conference Center. We're very excited about the Chapter's return to Scranton for our 2023 annual conference and hope to see you there. Block out the dates on your calendar now, and be sure to make a hotel reservation.
Making a reservation: The easiest way to make a reservation is online, but you can also call 570-343-3000 and mention "PA Chapter of APA" room block (conference dates October 15-17, 2022). The rate is good until September 18, 2023, but don't wait to make your reservation. The chapter only has a certain number of rooms in our block and once it's full, it's FULL; so don't wait…book now. 
Become a sponsor! We invite you to join Pennsylvania's premier planning event of the year: Electrifying the Future With Our Past. The APA PA Annual Conference provides a unique and effective opportunity to showcase your work and capabilities to planning professionals and policy makers from across the Commonwealth. It's also one of the ways to support planning in Pennsylvania by providing valuable networking, education, and development for planners. Check out sponsorship brochure for more information.
---
Earn over 50 CM credits each year online – at no cost to members of participating organizations that support the Planning Webcast Series. Webcasts take place live on Fridays from 1:00 – 2:30 PM ET and are worth 1.5 CM credits (for live viewing only) unless otherwise noted. More information online.
For APA members that need CM credit for on-demand education sessions are available. The Planning Webcast Series, sponsored by APA Chapters & Divisions, are offering credit till the end of the year (12/31/2023). More information online.
---
The Pennsylvania Municipal Planning Education Institute (PMPEI) courses are here for you if you are a local planning commissioner, zoning board member, zoning administrator, elected official or municipal planning staff. PMPEI, established in 1992, is the Chapter's primary outreach to the planning community and is a collaboration between the PA Chapter of the American Planning Association (PA/APA) and the PA State Association of Boroughs (PSAB). PMPEI offers four, 10-hour in-depth courses, and four 90-minute online courses dealing with the Municipalities Planning Code and Community Planning, Zoning and Zoning Administration, and Subdivision and Land Development Review. Classes are kept small, are within reasonable distances, low cost, team-taught by experienced instructors, and include lots of hands-on instruction. Course listings and descriptions may be viewed at PMPEI's website, pmpei.org. Contact Terri Dickow at tdickow@boroughs.org (or 1-800-232-7722 ext 1042) to find out how you can be part of the Chapter's planning education outreach!
Train the Trainer
The PA Municipal Planning Education Institute will be conducting a Train-the-Trainer class to prepare instructors to teach the PMPEI Course in Subdivision and Land Development Review. The training consists of two weekend sessions, Friday and Saturday, October 6 and 7, and Saturday, October 21. and will be held in State College. More information is available online.
---
Communication and Membership Committee
The Communication and Membership Committee is looking for volunteers to contribute articles for our monthly E-News. If you are interested or would like more information, please contact Amy Evans or Amy McKinney.
---
Each year the Chapter offers a scholarship to support individuals seeking funds for academic degree programs, internships, and professional development activities.  If anyone would like to contribute to the Chapter's Scholarship fund, donations can be made here. We accept all major credit cards, or you can send a check. Please make your check payable to "PA Chapter of APA Scholarship Fund" and mail it to P.O. Box 4680, Harrisburg PA 17111.
---
FEMA Region 3 Coffee Breaks Webinar Series
FEMA Region 3 hosts a webinar series for anyone who wants to reduce risk in their community. These hour-long "Coffee Breaks" are held every other month. FEMA staff share mitigation best practices and highlight the work happening at the federal, regional, state and community levels to reduce risk in Region 3. Coffee Break webinars are open to anyone in the hazard mitigation, resiliency, or risk reduction planning fields. This work can be in the public or private sectors. Community planners, emergency and floodplain managers, GIS technicians, government officials, and contractors – or anyone interested – is welcome to attend. You can find more information here. 
---
By the Numbers: The National Park Service in Pennsylvania
By Amy Evans, AICP

We might not have a Yosemite or a Yellowstone, but Pennsylvania does have plenty of national recognition: 19 national parks, eight national heritage areas, six national trails, 169 national historic landmarks, 27 national natural landmarks, 2 world heritage sites and four wild and scenic rivers.
PA also has:
3,552 listings on the National Register of Historic Places
139,603,248 objects in National Park Museum collections
12 Teaching with Historic Places lesson plans
9 'Discover Our Shared Heritage' travel itineraries

50 Certified Local Governments
The National Park Service estimates over seven million visits to national parks in PA annually, with an economic impact over $300M. The National Park Service manages and maintains sites, museums, and structures related to everything from the Delaware Gap to the Johnstown Flood to the Appalachian Trail. More information online on the National Park Service in Pennsylvania.
---
Penn's Parks for All
By Kate McMahon, AICP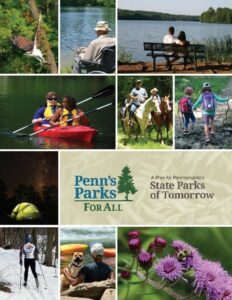 In 2021, the Pennsylvania Department of Conservation and Natural Resources (DCNR) adopted Penn's Parks for All: A Plan for Pennsylvania's State Parks for Tomorrow. Penn's Parks for All was developed as a strategic plan to help guide Pennsylvania's state park professionals in caring for the state parks across the Commonwealth. The overall goal of the plan is to guide state park improvements that meet the public's needs, while sustaining and improving the parks' natural and cultural attributes. To meet that goal, Penn's Parks for All incorporates 87 strategies in four categories: Outdoor Recreation Opportunities, Overnight Accommodations, Services and Facilities, and Paying for State Parks.
The Penn's Parks for All development occurred during and after the COVID-19 pandemic when park usage was at an all-time high. The strategic planning process included significant input from the park users, stakeholders, subject-matter experts, elected officials and parks staff. The plan aims to serve as a blueprint for moving state parks forward in the years to come. To learn more about Penn's Parks for All, visit DCNR's website. 
---
Eales Preserve at Moosic Mountain's Recreation and Preservation Highlights
By Betsy Logan, AICP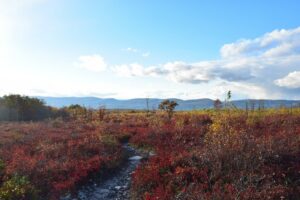 As you plan to attend the Annual Conference in Scranton, consider exploring a local nature preserve and recreation area – Moosic Mountain Barrens Eales Preserve. Stretching approximately 32 miles from Scranton to Mount Pleasant, this 2,250-acre preserve was protected from development in 2001 by The Nature Conservancy. Offering a variety of recreational opportunities, Eales Preserve also provides a plethora of recreational and environmental highlights.
Boasting a network of scenic hiking trails, Eales Preserve's twenty miles of trails cater to hikers of all levels. From strolls along the forested paths to more challenging treks leading to breathtaking overlooks, there is something for every nature enthusiast. Cyclists can explore the region's beauty while navigating through well-maintained biking paths that wind through the woods. Environmentally, the diverse ecosystem supports various bird species and a rich diversity of flora and fauna. In December 2021, O'Conner Reservoir Dam was removed, creating the opportunity to restore the original stream channel and floodplain at the bottom of the Dick and Nancy Eales Preserve at Moosic Mountain.
One of the most inspiring aspects of Eales Preserve's success story is the collaboration between various stakeholders. Local communities, environmental organizations, and government agencies have collaborated through conservation initiatives, land acquisition, and sustainable planning. $7.1 million in local funds were leveraged with a Keystone investment of $2.2 million to save these lands. This site, combined with the Pennsylvania State Game Commission and Bureau of Forestry lands, protect approximately 15,000 acres.
Visit Eales Preserve to experience firsthand a prime example of the importance of sustainable planning and nature preservation,
---
Lancaster County: Secret Outdoor Destination?
By Brian O'Leary, AICP
When people envision Lancaster County, a lot of images come to mind – the Amish, rolling farmland, horses and buggies, Dutch Wonderland, or the Lancaster Central Market. What doesn't come to mind is the great outdoors, but Lancaster County has a lot to offer for those who love biking, hiking, kayaking, fishing, or climbing, which my wife and I discovered when we visited for a long weekend in early July.
On our first day out and about, we drove to Columbia, a revitalizing borough on the Susquehanna River, which is the starting point for the Northwest Lancaster County River Trail. In Columbia, there's a waterfront park with a nice visitors center, as well as a private outfitter for excursions on the river and the surrounding cliffs. Once we got on our bikes and began riding north on the multi-use trail, we encountered a wide variety of sites, such as the Chickies Rock climbing area, the Musselman-Vesta furnace historic site, Marietta's brew pubs and restaurants, and the White Cliffs of Conoy. Clearly, planners have been at work along this trail, which is evident in the excellent interpretive signage, the restored historic sites, and the fields of native grasses.
On our second day, we explored the Safe Harbor area by kayak and bike. First, we used a canoe launch on the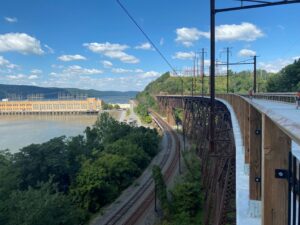 Conestoga River to get out to the islands and rocks below the Safe Harbor dam, paddling over to a couple of large rocks with Indian petroglyphs carved into them. I'd say the individual petroglyphs themselves, which are hard to see, aren't particularly impressive, but the group as a whole and the fact that they exist in the middle of the Susquehanna is pretty amazing.  After our kayaking, we hopped on the Enola Low Grade and rode over the Safe Harbor Trestle Bridge, which, because of its height, has beautiful scenic views over the Susquehanna River. Planners often hear that challenging projects like this trestle bridge are too difficult to do, but Manor Township did a great job rehabbing the bridge for trail use, even including glass panels to look down at the Conestoga River and abundant interpretive signage.
If you're interested in exploring the lower Susquehanna River and gorge in Pennsylvania, check out the Susquehanna National Heritage Area's website, which has great information about a wide range of activities in the area.