The Latest News from PA Chapter of APA…
Planners get flooded with information constantly.  What's useful and what isn't?  It can be hard to judge, particularly when we're pulled in so many directions.  This month, we highlight a number of resources, from good books to helpful tools and training, that we've found useful.  Many of these publications and tools look at planning through an equity lens. Enjoy!
---

Advancing Racial Equity through Land Use Planning
To address present day challenges, this webinar will present examples of two cities addressing racial inequity through their land use planning tools & codes. The City of Minneapolis, Minnesota recently completed Minneapolis 2040, which reflects the result of more than two years of engagement with the people of Minneapolis. This engagement included over 100 meetings and conversations with thousands of residents, business owners, and others, where they shared their vision and hopes for the future of the city.
CM credit (Equity) is pending approval. Deadline to register is March 1, 2022
If you're interested in sponsoring a Webinar Wednesday session or have a session for Webinar Wednesday, please contact us. Send your request to info@planningpa.org.
---
Penn State Extension: Crime Prevention through Environmental Design
Crime Prevention Through Environmental Design or CPTED (pronounced sep-ted) suggests that the design of buildings, landscaping and outdoor environments can either encourage or discourage crime. CPTED attempts to minimize crime and the fear of crime by reducing criminal opportunity and fostering positive social interaction among the users of a space.  This webinar is March 16 and will discuss CPTED concepts, the planning and engagement process, and successful case studies. More information.
---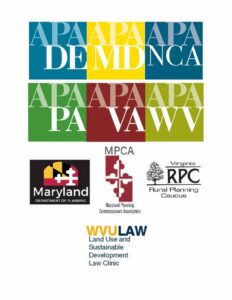 Mid-Atlantic Collaboration: Planning for Clean Water Webinar Series
The Mid-Atlantic Planning Collaboration has announced a webinar series exploring the vital connections and partnerships between planners and the health of our water resources and the Chesapeake Bay Watershed. Webinars will be held the third Thursday of each month starting at 12:00 p.m. Save the following dates: March 17, April 21, May 19, June 16
---
2022 Virtual AICP Exam Prep Session
The Pennsylvania Chapter is holding an all-day virtual AICP exam prep session on Saturday, March 19. The session will review the content outline of the AICP exam, which APA recently updated, and provide details on the different content areas. The exam has been updated to reflect the new content outline, and the session will take time to clarify understanding of the revised exam. Questions are encouraged throughout the day. More information.
---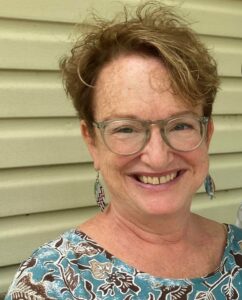 Congratulations to Ann Hutchinson, AICP, for being elected to the College of Fellows of AICP. The process of being selected to the College of Fellows of AICP is extremely challenging and competitive and Ann's planning career represents the qualities that define Fellowship within AICP. The Pennsylvania Chapter of the American Planning Association is so proud to have another Pennsylvania Planner join the College of Fellows. Congratulations, Ann!!
---
Please save the date for our Annual Conference, October 2-4, 2022 at the Lancaster Marriott at Penn Square. The 2022 Call for Presenters is open! Proposals are being accepted online only via the Chapter website. The deadline is approaching. Please submit your proposals by Friday, March 4, 11:59 PM. Traditional and non-traditional sessions will be accepted. More information. 
---
Each year the Chapter offers a scholarship to support individuals seeking funds for academic degree programs, internships, and professional development activities.  If anyone would like to contribute to the Chapter's Scholarship fund, donations can be made here. We accept all major credit cards, or you can send a check. Please make your check payable to "PA Chapter of APA Scholarship Fund" and mail it to P.O. Box 4680, Harrisburg PA 17111.
---
Over the past couple of years, a book published in 2017 called The Color of Law has received a lot of attention, showing the impact that segregation has had on our communities and nation. Patty Elkis, a planner at the Delaware Valley Regional Planning Commission, describes what this book meant to her:
Every so often, one reads a book that changes the way one perceives the world. That happened to me when I read The Color of Law, by Richard Rothstein. The book outlines, in meticulously detailed research, how our governments – at all levels – intentionally segregated residential neighborhoods, by policy or demolition. We now live in predominantly segregated communities, with many Black neighborhoods suffering from disinvestment and poor schools, and many Black families lacking generational wealth to move up. Most people understand what is wrong with segregation, but may believe that residential segregation is "de-facto" or by choice, in that people like to live among their own race. The Color of Law debunks many prevailing myths about why things are the way they are, and explains how many of our political and social conflicts arise from our lack of familiarity with fellow citizens. 
Reading this book was transformative to my knowledge and understanding of segregation and its implications in America, and opened my eyes to possible remedies. As a planner, I have faith that our profession, with our training in listening and learning about what we do not know, coupled with a willingness to create new approaches to promote transformative impact in solving problems, can bring our collective skills and tools of the trade to address some of these big complex problems, and lift everyone up.
---
Tools for Better Community Planning
As planners, we know the importance of engaging the community in the planning process. Effective engagement allows community members to voice their views and contribute to policy decisions that affect their communities. With COVID, the trend for using online tools for improving and enhancing community engagement has spread. Online public engagement and social media data mining are tools that can improve our ability to get community feedback on projects and ensure that community members' concerns and interests are heard.
Various companies provide online public engagement tools that can be used to disseminate information, share surveys, encourage interactive map participation, and provide discussion opportunities on specific topics. Other companies can provide access to data mining of social media specific to a project or community. These tools can mine data points from various social media entities to determine what the community is talking about and where their concerns are focused. These two types of tools can provide a broader picture to planners, especially in areas where there is little public participation.
Companies that provide these services include:
Bang the Table
ZenCity
Citizen Lab
OpenGov
While traditional outreach should still be included, online tools can widen the reach and provide a better understanding of a community's needs and wants.
---
Can Defining the "Public Interest" Really Be as Easy as 1..2..3?
The first commitment, ethically speaking, for members of the American Institute of Certified Planners is to continuously pursue and faithfully serve the public interest. But it's fair to say that almost every planner has said to themselves at some point, "I don't disagree, but what does that mean?"
Given the comprehensive nature of the profession and the complexity of the communities we serve, the public interest can be surprisingly hard to pin down. Fortunately, a recent Planning Advisory Service (PAS) Memo by Kyle Ezell, FAICP, entitled "Three Essential Questions for Better Planning" gives us a a simple and intuitive way to focus our planning practices by asking a series of short questions.
Who is helped?
Who is harmed?
Who is missing?
To quote Ezell: "…the essence of planning for and with people is simple: we want our work to benefit as many people as possible, to negatively impact as few people as possible, and to include as many people as possible."
By asking these questions – and devoting time and effort to developing the answers – not only can we better serve the public interest, we can take on more meaningful roles in community conversations and be active empowerers of voices that are often not heard in planning processes.
Members of the American Planning Association can access PAS Memo No. 110 through APA's website.
---
Implementable Planning Book Now Available
The "implementable comprehensive plan" approach has become a standard in Pennsylvania. Its introduction by Denny Puko at PA DCED and pioneering by consultant Jim Pashek contributed to a growth in practical and results-oriented planning over the last ten years.
Guidance on implementable planning has come mainly from a training course and workbook, scattered printed materials, and word of mouth…until now. A definitive guide is now available: Off the Shelf and Into Action, How to Create an Implementable Comprehensive Plan, written by Jim Pashek and Denny Puko.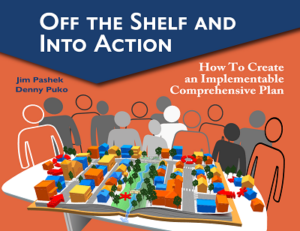 The 127-page book describes five keys for creating an implementable plan. It provides a wealth of ideas and "closer look" stories to stimulate planning that will lead to action and results. According to Pashek, Off the Shelf and Into Action is "the culmination to date of our thoughts as we rolled up our sleeves and engaged in the sometimes-messy work of helping communities address their concerns."
The bottom line, according to the authors? Planners are dissatisfied with the traditional template. Communities want more than a book. There are things planners and communities can do to make comprehensive plans more implementable! Off the Shelf and Into Action provides those ideas.
The authors have agreed to donate proceeds from book sales to the APA Pennsylvania Chapter for scholarships and training. "We didn't write the book to make money," said Puko. "We wrote it to provoke new and different thinking about comprehensive plans."
The price of the book is $30. The book can be ordered online. Proceeds to benefit APA PA Scholarship Fund, more information.