The Latest News from PA Chapter of APA…
With the annual conference held in Lancaster this year, October was a busy month for the Chapter. In this month's newsletter, we focus on a variety of Chapter activities, including our awards program, our Great Places program, and out nomination of Chapter members for various awards, state committees, and other roles. Enjoy!
---

Pennsylvania Land Use Law Update: Appellate Cases from 2021-2022
Appellate Cases will be presented in traditional lecture format as well as interactively with hypotheticals to demonstrate how a recent case decided the outcome. Cases will range from traditional zoning approval cases (variances, special exceptions & conditional uses), zoning interpretation cases and validity challenges, to subdivision and land development cases. Practice points distilled from each will be emphasized.
Law CM credit is pending approval. Deadline to register is November 1, 2022
If you're interested in sponsoring a Webinar Wednesday session or have a session for Webinar Wednesday, please contact us. Send your request to info@planningpa.org.
---
Sustainability/Resilience, Equity and Ethics Distance Education Sessions
For APA members that still need sustainability/resilience, equity and ethics CM credit distance education sessions are available. The Planning Webcast Series, sponsored by APA Chapters & Divisions, are offering credit till the end of the year (12/31/2022). More information available online.
---
A big thank you goes out to our Conference Committee, Chapter Administrator, Sponsors, Exhibitors, Advertisers, and speakers that made our 2022 Annual Conference a huge success. We had over 425 attendees! We look forward to seeing you next year in Scranton. We will be at the Hilton Scranton and Conference Center, save the date: October 15-17, 2023. 
---
American Planning Association National Conference Update
The American Planning Association will hold its National Conference at the Philadelphia Convention Center, In-person: April 1-4, 2023 and Virtual: April 26-28, 2023.
If you are interested in volunteering to help plan the local aspects of the conference, contact our Host Chair, Alexis Williams. Thank you to everyone that has offered to volunteer to work with APA to showcase Philadelphia.
---
Pennsylvania 2023 State Hazard Mitigation Plan Update – We Want Your Input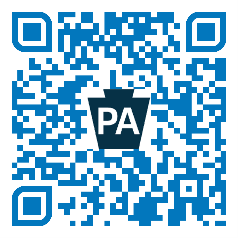 Organizational and state representatives play a critical role in the plan update process. There are several ways to provide input to the plan. Please provide feedback by responding to the online survey, QR code or by downloading a PDF version of the survey.
---
Communication and Membership Committee
The Communication and Membership Committee is looking for volunteers to contribute articles for our monthly E-News. If you are interested or would like more information, please contact Amy Evans or Amy McKinney.
---
Each year the Chapter offers a scholarship to support individuals seeking funds for academic degree programs, internships, and professional development activities.  If anyone would like to contribute to the Chapter's Scholarship fund, donations can be made here. We accept all major credit cards, or you can send a check. Please make your check payable to "PA Chapter of APA Scholarship Fund" and mail it to P.O. Box 4680, Harrisburg PA 17111.
---
Highlighting a Great Place in PA Winner: Fourmile Creek Trail at Wintergreen Gorge
I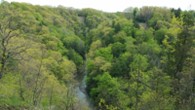 n 2022, the Chapter recognized five Great Places in Pennsylvania, bringing the total number of Great Places celebrated across the Commonwealth to 51.
On September 30, 2022, the Chapter presented a 2022 Great Place in Pennsylvania Certificate to the Fourmile Creek Trail at Wintergreen Gorge. This 1.2-mile trail is located on the Penn State Behrend Campus and extends from the bottom to the top of the Gorge. The trail surface is a compacted aggregate mix that not only reduces erosion and the trail's carbon footprint but also provides for accessibility by strollers and wheelchairs. Other eco-friendly features include carbon neutral bamboo boardwalks that protect wetlands and natural drainageways, raingardens that capture and infiltrate stormwater, and stone blocks reused as benches.
These improvements resulted from implementation of the Sustainable Trail Master Plan, completed in 2014 through an extensive public involvement process. Users of the trail come from near and far to experience the unique geologic and natural features of the Gorge, fishing access, interpretive signage, important bird habitats, and distinctive plant species, meadows, and floodplain forest. Additionally, the Trail and Gorge serve as an "outdoor laboratory" for student projects. Access to the Trail is available from trailheads at either end, as well as from the Bayfront Bikeway and Erie bus system.
The Fourmile Creek Trail, which bolsters the local economy, is a community gem for walkers, bicyclists, and hikers of all ages and abilities. A strong commitment to land stewardship and maintenance will sustain the trail for future users. When asked for a quote, Dr. Sam Mason, Director of Sustainability, stated "This award recognizes what many locals already feel, that the Wintergreen Gorge and Fourmile Creek Trail are a gem right in our own backyard. We are honored for this distinction, especially given by professionals in the field, and the heightened awareness that surrounds it. We want more people to come to know this beautiful space and the treasure that is the Great Lakes region." Fourmile Creek Trail at Wintergreen Gorge was one of the four places to be designated under the Greenways/Trails category.
---
Highlighting a Planner: Charles Guttenplan, AICP
During the annual chapter meeting held at the Chapter's conference in Lancaster, Charles (Charlie) Guttenplan, AICP, was honored for receiving the APA PA Career Recognition Award as part of the Governor's Awards for Local Government Excellence in April 2022.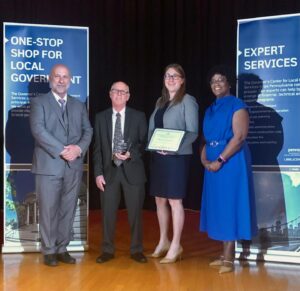 Charlie started his professional planning career in 1973 when he joined the staff of the Montgomery County Planning Commission (MCPC) and served for 14 years, followed by nearly three years in Lower Merion Township, and then 21 years as a land planning consultant for The Waetzman Planning Group. There he served as a land planning consultant with most of his time devoted to municipal clients in Southeastern Pennsylvania, such as Whitemarsh Township in Montgomery County, where he has served many years as the director of planning and zoning. Charlie also teaches courses for the Pennsylvania Municipal Planning Education Institute (PMPEI) and sits on their board. During his many years of service to the community and the planning profession, Charlie has been an adjunct planning instructor and served on the planning commissions in Hatfield Township and North Wales Borough, where he was also a founding member and chair of their Historical Architectural Review Board.
---
Highlighting a Chapter Award Winner: Completing the Loop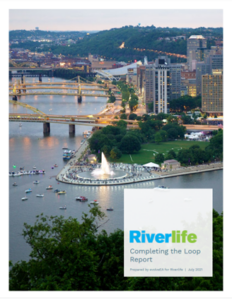 The annual Chapter conference featured another excellent awards program, where three plans, one project, and two planners won awards. Once again, these award winners highlight the best and brightest in Pennsylvania planning.
One of the awards for a plan went to Riverlife for its Completing the Loop report, which updates prior planning efforts for Pittsburgh's many riverfronts. This well written and illustrated report takes a slightly different approach, building on prior planning documents, documenting progress to date, and highlighting achievable next steps to improve and expand waterfront amenities. Because Completing the Loop is not starting from a blank slate, it provides an intriguing, replicable model for other organizations that have plans in place and want to see how they are succeeding.
The application for the award notes that "The Completing the Loop report articulates Riverlife's vision, imagines projects for a world-class riverfront, and aligns the efforts of many stakeholders to create vibrant, equitable places. Charting 20 years of progress, Completing the Loop describes steps needed to close landside trail gaps, strategies to get to the water's edge, and the integration of on-river networks for a continuous river experience. The plan connects neighborhoods that have been disconnected by infrastructure such as highways and railroads, and proposes a system of equitably located facilities, services, and amenities.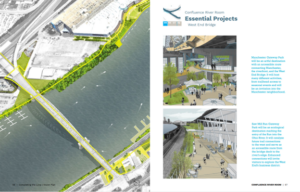 Unlike publicly owned park systems, Pittsburgh's riverfronts rely on cooperation among public and private property owners, and the visioning process has cultivated relationships to address maintenance and realize ambitious projects. Completing the Loop's Technical Assessment outlines key steps for the Allegheny, Monongahela, and Confluence "River Rooms" and identifies partners, projects, timelines, and issues critical to completion. The Scorecard rates progress for the Loop's 25 segments and recommends how to improve each segment's score, which rates Connectivity, Places, Maintenance, Ecology, and Experience."