The Latest News from PA Chapter of APA…
Unprecedented. Chaotic. Exhausting. When people are asked to describe 2020, these are common responses. In 2021, many of our news items will emphasize personal and professional resiliency and adaptation to rapid change. This month, these priorities are highlighted in articles about sustainability, economic development, and more. Enjoy!
---
Etna Borough, along with the multidisciplinary firm evolveEA, won a 2020 Chapter award for the Etna EcoDistrict Plan. This plan produced a global first – the world's first certified ecodistrict! Etna, PA is a Pittsburgh-area rivertown with a cyclical history of economic distress and persistent environmental threats. The Etna EcoDistrict Plan identifies ways to integrate social equity, community resilience, and environmental stewardship into Etna's community fabric. The plan sets a goal for Etna to be carbon neutral by 2050, has led to the development of a community library, and is bolstered by the founding and endowment of a $5 million land trust for affordable housing. Idea Round-up grants to residents help to implement projects for energy savings, flood resilience, and healthy food projects.
Etna is also partnering with the neighboring Millvale and Sharpsburg communities to collaborate on shared initiatives that increase each community's capacity for resiliency. 
Check out videos from the Neighborhood. Browse these videos to learn how EcoDistricts empowers everyone, everywhere to have a great neighborhood.
---

The next Webinar Wednesday, Planning and the New Dynamics of the Demographic of Grandparents Raising Grandchildren Growth is scheduled for February 3, 2021 from 12:00 to 1:00 PM. The "Grandparents Raising Grandchildren" demographic is rapidly growing across Pennsylvania. Over 90,000 families have this situation.  Millions of youngsters nationally are being raised this way. This panel will examine the role of the planner in working closely with this demographic and how the need exists to include this demographic in the development of the community.  
If you are interested in sponsoring a Webinar Wednesday session or have a session for Webinar Wednesday, please contact us. Send your request to info@planningpa.org. 
Save the Date!
The Pennsylvania Chapter of the American Planning Association's 2021 Conference will be held on October 17-19 at the Sheraton Pittsburgh Hotel at Station Square, Pittsburgh, PA. The Southwest Section has already begun to plan for a successful event. Call for Presenter details will be out soon, please stay tuned for more information.
Community Planning Assistance Program 
We are still looking for members to join the Community Planning Assistance Program Steering Committee. If you're  interested and would like more information please send an email to info@planningpa.org.

Opportunities for Giving
Each year the Chapter offers a scholarship to support individuals seeking funds for academic degree programs, internships, and professional development activities.  If anyone would like to contribute to the Chapter's Scholarship fund, donations can be made here. We accept all major credit cards, or you can send a check. Please make your check payable to "PA Chapter of APA Scholarship Fund" and mail it to P.O. Box 4680, Harrisburg PA 17111.
---
Planning Responses to the Pandemic
The current pandemic, with its devastating impact on the economy, required planners to adapt quickly to a crisis situation. We weren't able to follow our normal long-range planning processes, followed by detailed implementation; instead, planners had to provide short-term assistance in any way they could. In Southeast Pennsylvania, a number of planning departments provided pandemic-related planning support to economic development agencies, local elected leaders, and municipal governments. Here are three examples.
Early in the pandemic, the Delaware Valley Regional Planning Commission leapt into action, providing guidance to local municipalities on retail strategies, remote meetings, and telework. They also pulled together timely transportation and economic data into one location.  All of this information was consolidated on one webpage, https://www.dvrpc.org/COVID19resources/.
Patty Elkis, DVRPC's director of planning notes that "DVRPC recognizes that there are many economic, transportation and work-related implications from the pandemic and is committed to helping our partners adapt to the new realities we find ourselves in. Our COVID-19 webpage tracks data on travel impacts, unemployment rates, and COVID related resources, and it hosts webinars on topics like best practices for teleworking, how to facilitate remote meetings, and guidance for Main Street retail recovery. We also initiated a Bike Match program that connects essential workers with donated bicycles. We've made about a dozen matches to date, but had over a hundred requests. If you have an unused bike sitting in your garage, please consider donating it by checking out Bike Match Network!"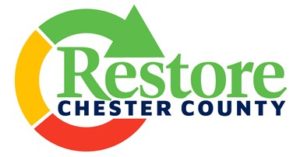 In Chester County, the county commissioners created a task force to help businesses impacted by the government shutdown early in the pandemic. This task force, comprised of business and government leaders, provided small businesses and residents critical guidance on when they could reopen and how to do so safely. The Chester County Planning Commission provided technical support for this effort, including an analysis of the county's economy pre-pandemic that could be used as a baseline for economic development recovery efforts. https://www.chescoplanning.org/pdf/EconomyReport082420.pdf
In the fall of 2020, the Restore Chester County task force worked with a consultant and the planning commission to identify best business practices in 21 industries for addressing changing customer behaviors and evolving economic forces. This effort included a series of action steps that local governments, economic development agencies, industry advocacy groups, and others could do to help small businesses to survive, recover, and thrive.  https://restorechestercounty.org/EconomicAction.cfm
In Montgomery County, the planning commission produced guides for local decision makers in six general areas:  economic and businesses; government and non-profits; transportation; housing; public meetings; and open space and recreation. Specific topics were explored through curated outside resources, MCPC-created content, stories or examples of success, and forums for public discussion. https://www.montcopa.org/3529/Restart-Montco
Scott France, the Executive Director of the Montgomery County Planning Commission, notes that "I won't soon forget the early weeks and months of the pandemic and all of the professional and personal uncertainties it brought. It was a real credit to our staff that they dived into the issues that all of our communities were facing alongside us and worked in overdrive to produce guidance and resources in our RESTART Montco campaign."
These three efforts by DVRPC, CCPC, and MCPC show how planning can adapt to a rapidly changing situation to provide concrete guidance and assistance to our leaders, businesses, and broader community. This resiliency and adaptability will need to continue as our communities respond to the long-term impacts and changes wrought by pandemic.
---
Great Places in Pennsylvania Spotlight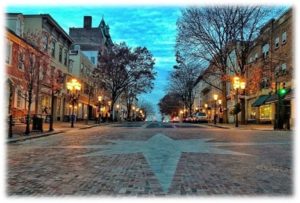 The Great Places in Pennsylvania program began in 2014. This program highlights places in the Commonwealth that are prime examples of good planning and are centerpieces of their communities highlighting connectivity, community engagement and economic opportunity. Each month, we will highlight a recent Great Places award winner.
In 2019, Main Street in Bethlehem was designated as a Great Place in the Great Public Spaces category. Main Street is the gateway of the city, stretching a quarter of a mile from Broad Street to Church Street. Main Street was Pennsylvania's first local historic district with buildings from as early as the 1850s. It is a hub of commercial and recreational activity in Bethlehem with boutique shops and gourmet restaurants lining the street. 
Main Street hosts a variety of community events and activities to draw locals and tourists to the space. During the holiday season, Main Street hosts the Christmas City Village and Vespers services to draw people for holiday shopping and reflection on the holiday season. Main Street also hosts events such as walking tours and colonial blacksmithing classes, Restaurant Week and HarvestFest. An estimated 41,000 people attend various Main Street events throughout the year.
Main Street in Bethlehem benefits from several city partnerships that enhance the space. The Downtown Bethlehem Association supports business development in the corridor. The Lehigh Valley Chamber of Commerce also provides funding for beautification projects and assists with attracting new businesses to Main Street. Finally, the City of Bethlehem continues to invest in Main Street to show its commitment to Main Street's lasting presence as a public space.
---
An Interview with Jessica Trimble

Jessica Trimble, MPA is the Statewide Planner in the Governor's Center for Local Government Services at the Pennsylvania Department of Community and Economic Development. In this role, Jessica works on state level plans which impact local government decisions for land use, economic development, disaster recovery, water quality, transportation, recreation, and more. She also serves as the facilitator for the State Planning Board and the leader of the Recovery Support Function network for Community Planning and Capacity Building on the State Long Term Recovery Task Force.
Prior to joining the Governor's Center for Local Government Services, Jessica worked in Community Development Block Grant administration and in affordable housing consultation. Her educational background includes a BA in Political Science from Loyola University Maryland, a Master of Public Administration and a professional certification in GIS from Penn State. Jessica is also a scholar of the Rural-Urban Leadership Program (RULE XVIII) through Penn State Extension.
Jessica currently lives in Susquehanna Township (Dauphin County) with her fiancé, Michael Passiment, and their two cats, Skittles and The Kraken. She enjoys cooking, reading, and overthinking minute details (normal planner behavior, right?).
Jessica shared her thoughts on economic development and her favorite place in Pennsylvania with us:
Thoughts on Economic Development in Planning…
"Great community planning must include an economic development component. But economic development alone is not the sole determinant of revitalization. In fact, economic development is most effective after all other elements of planning have been addressed. The evidence of this is the revolving door of hopeful, hardworking proprietors and store fronts in our Pennsylvania small towns. So many communities are grappling with the loss of population, aging infrastructure, and a sense of abandonment. And while new coffee shops, infill housing, and distribution centers may be signs of life, they do not solve all underlying problems. It is our job as planners to help make economic development possible. We do this by listening to the experiences of residents, new and old, to renew character and restore pride of ownership. We need to identify our natural and cultural assets and pledge to embrace and enhance them. We can speak honestly about our vulnerabilities. We should invite neighboring communities to the table to find out what values and goals we share. We must work to help people envision a better future. And then, we plan for economic development."
What's Your Favorite Place in Pennsylvania?
"In my job (in normal times), I spend a lot of time on the road visiting PA's communities. I have a habit of falling in love with every single town I visit. Usually within the first hour of arrival, I've picked out what house I want to buy and I've daydreamed an entire future there. With that said, one of my absolute favorites so far is Brownsville Borough, Fayette County. The view of the Monongahela from the crest of town is simply unbeatable at sunset."