The Latest News from PA Chapter of APA…
A key part of planning is anticipating future trends and helping local communities understand the best ways to prepare for the inevitable changes these trends will bring. In this month's newsletter, we highlight the ICMYI's top trends for 2023, provide a link to a seminar on the status of our infrastructure, and discuss planning for warehouses. To learn even more about trends planners are facing, we encourage you to sign up for the national conference in Philadelphia, which you can read about in the story below. And looking further in the future, we'll be celebrating our nation's 250th anniversary in 2026, which is also discussed below. Enjoy!
---

The four Sections of the American Society of Civil Engineers (ASCE) in Pennsylvania (Central PA, Lehigh Valley, Philadelphia and Pittsburgh) combine forces and efforts every four years to perform an assessment of current infrastructure conditions throughout the Commonwealth. This is provided in a report card format with letter grades to make this simple to present and understand for elected officials and the public. The 2022 update was released statewide on November 15.
The presentation will cover the basics of the Report Card, its development and review of backup and reference material utilized in the assessments and projections, and how it has been a useful planning and reporting tool for infrastructure needs and funding.
Deadline to register is  today, January 31st.
CM credit is pending approval. You MUST attend the webinar live to earn CM credit.
---
Earn over 50 CM credits each year online – at no cost to members of participating organizations that support the Planning Webcast Series. Webcasts take place live on Fridays from 1:00 – 2:30 PM ET and are worth 1.5 CM credits (for live viewing only) unless otherwise noted. The first series is scheduled for January 20, 2023. More information online.
For APA members that still need sustainability/resilience, equity and ethics CM credit distance education sessions are available. The Planning Webcast Series, sponsored by APA Chapters & Divisions, are offering credit till the end of the year (12/31/2022). More information online.
---
The Pennsylvania Municipal Planning Education Institute (PMPEI) courses are here for you if you are a local planning commissioner, zoning board member, zoning administrator, elected official or municipal planning staff. PMPEI, established in 1992, is the Chapter's primary outreach to the planning community and is a collaboration between the PA Chapter of the American Planning Association (PA/APA) and the PA State Association of Boroughs (PSAB). PMPEI offers four, 10-hour in-depth courses, and four 90-minute online courses dealing with the Municipalities Planning Code and Community Planning, Zoning and Zoning Administration, and Subdivision and Land Development Review. Classes are kept small, are within reasonable distances, low cost, team-taught by experienced instructors, and include lots of hands-on instruction. Course listings and descriptions may be viewed at PMPEI's website, pmpei.org. Contact Terri Dickow at tdickow@boroughs.org (or 1-800-232-7722 ext 1042) to find out how you can be part of the Chapter's planning education outreach!
---
APA National Conference is Almost Here!
The annual national planning conference is just around the corner, and registration is open now; so, we encourage you to register and start making plans to visit Philadelphia. The conference will be held at the Philadelphia Convention Center in-person from April 1-4, 2023 and virtually from April 26-28, 2023.
This is a great opportunity for Pennsylvania planners to showcase the great work we've done since the last time the national conference was here in 2007. Chapter planners will be running mobile workshops, providing orientation tours, organizing special events, and presenting at planning sessions. There's been a team of planners from Pennsylvania arranging these efforts.
You can now register for the conference here. 
---
Communication and Membership Committee
The Communication and Membership Committee is looking for volunteers to contribute articles for our monthly E-News. If you are interested or would like more information, please contact Amy Evans or Amy McKinney.
---
Each year the Chapter offers a scholarship to support individuals seeking funds for academic degree programs, internships, and professional development activities.  If anyone would like to contribute to the Chapter's Scholarship fund, donations can be made here. We accept all major credit cards, or you can send a check. Please make your check payable to "PA Chapter of APA Scholarship Fund" and mail it to P.O. Box 4680, Harrisburg PA 17111.
---
ICYMI: APA's Top Trends for 2023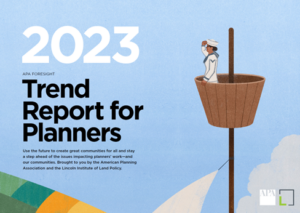 It's inevitable – a new year gets people and organizations thinking about what the next 12 months or more will look like. For the planning profession, which is tasked with creating inclusive plans for navigating endlessly variable circumstances, constant change is a particular challenge. And, of course, change comes in many forms. In 2023 change ranges from new technologies like blockchain, the Metaverse, and space agriculture to complex social changes affecting how we shop, work, use social media, and perceive gender.
To help planners assess what is in store, APA has issued a 2023 Trends Report for Planners. For a sneak peak, let's look at APA's take on the integration of technology into the delivery of government services: in short, the digital era is here. Planners should be looking at ways to provide digital, on-demand services – with significant caveats: Increased reliance on digital services must be paired with policies that preserve resident trust, actions to ensure digital services can be accessed equitably, and responsible use of the data generated by these services.
This assessment, along with analyses of 18 other trends and signals, are organized by urgency: what we need to act on now, what we should be preparing for, and areas we would do well to learn about and watch. This is the second annual report developed by a partnership between the APA Foresight team and the Lincoln Institute of Land Policy. Year-to-year monitoring of trends can be found on APA's Trend Universe page.
---
Although Amazon is pulling back on its great warehouse expansion, e-commerce and the demand for warehouse space are not going away. Warehouses, distribution centers, and last mile deliveries will continue to impact planning for the foreseeable future. Planners will need to continue thinking about warehouses and their impacts on the built environment, the economy, transportation, and the environment. A critical question is how warehouses can become more sustainable.
Historically, warehouses have been a neglected topic by the planning profession, but that has certainly been changing. In 2020, the APA's Zoning Practice report focused on e-commerce and the future of land use. 
In 2021, the Lehigh Valley Planning Commission, which has been dealing with exponential warehouse growth, released a report on high cube warehouses.
And, at the 2022 chapter conference in Lancaster, there was a session focusing on the transportation and economic impacts of e-commerce warehousing in Berks County.
---
Across the Commonwealth, Pennsylvania is gearing up for a big celebration, the United States' 250th anniversary. The Pennsylvania Commission for the United States Semiquincentennial, aka Amercia250PA, is leading the charge to celebrate on July 4, 2026.
Amercia250PA's mission is to make 2026 E.P.I.C. as they EDUCATE, PRESERVE, INNOVATE and CELEBRATE Pennsylvania's rich history, culture, and future through various programs, projects, and events. This historic initiative provides an opportunity to engage ALL Pennsylvanians in ALL 67 counties to ensure this commemoration is the most inclusive. America250PA is encouraging County Commissions and municipalities throughout PA to adopt resolutions and create local committees that will share and celebrate their histories and showcase the State's past, present, and future.
By engaging all citizens of the Commonwealth, America250PA hopes to bring the Commonwealth's history into the conversation so Pennsylvanians can better understand the origins and multiple perspectives of issues facing our Commonwealth & nation today. They want to use history to encourage and inspire future leaders and celebrate the contributions of Pennsylvanians to the Commonwealth's and Nation's history. America250PA hopes to leave a lasting impact on the next generation and to spark an interest that will ignite the drive for them to appreciate all the triumphs, trials, and tribulations which contributed to the success of the Commonwealth.
More information can be found at America250pa.org.