The Latest News from PA Chapter of APA…
One of the big land use trends that was accelerated by the pandemic is the ongoing shift to industrial development. Although this is primarily warehouse and distribution space, manufacturing has also seen a resurgence. This month, read about the abandoned mining landscape of Centralia, the reuse of a steel making site in Bethlehem, and the surge of industrial and warehouse space in the Lehigh Valley. We also have a reader survey and a reminder about the benefits of organizational memberships. Enjoy!
---

Climate Change Planning for Vulnerable Neighborhoods
In this session, the speakers will introduce a county-wide climate change vulnerability assessment as well as other hazard mitigation-related projects undertaken by the Montgomery County Planning Commission. In 2020-2021, the county utilized free public information on (A) historical flooding and flood-prone areas, (B) historically heat sensitive areas, and (C) disadvantaged populations in order to identify neighborhoods which will likely face increased challenges due to climate change. To ensure regional consistency, Montgomery County completed this study with assistance from the Delaware Valley Regional Planning Commission as they worked on a complementary regional heat island project. 
CM credit (Sustainability & Resilience) is pending approval. Deadline to register is February 1, 2022
If you're interested in sponsoring a Webinar Wednesday session or have a session for Webinar Wednesday, please contact us. Send your request to info@planningpa.org.
---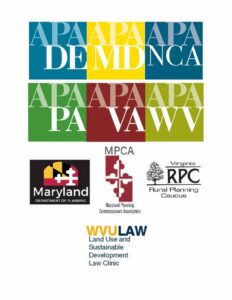 Mid-Atlantic Collaboration: Planning for Clean Water Webinar Series
The Mid-Atlantic Planning Collaboration has announced a webinar series exploring the vital connections and partnerships between planners and the health of our water resources and the Chesapeake Bay Watershed. Webinars will be held the third Thursday of each month starting at 12:00 p.m. Save the following dates: February 17th, March 17th, April 21st, May 19th, June 16th
---
Opportunities for Giving
Each year the Chapter offers a scholarship to support individuals seeking funds for academic degree programs, internships, and professional development activities.  If anyone would like to contribute to the Chapter's Scholarship fund, donations can be made here. We accept all major credit cards, or you can send a check. Please make your check payable to "PA Chapter of APA Scholarship Fund" and mail it to P.O. Box 4680, Harrisburg PA 17111.
---
AICP: Updates to the Certification Maintenance Program
New Mandatory Credits are beginning January 1, 2022, AICP members will be able to start logging two new mandatory credits in addition to Law and Ethics. One of the new mandatory credits is Equity , which will help planners build their skillsets in an area that is of pressing and lasting concern to communities across the country.
The other new credit is a targeted topic, which allows the AICP Commission to rotate the topic as they deem appropriate to reflect the professional development needs of planners in a rapidly changing world. The topic for this targeted credit will be Sustainability and Resilience, recognizing the growing need for planners to help their communities prepare for issues like climate change, sustainable development, and hazard resilience. More information. 
---
Planners at Home & on Vacation: Ending 2021 in Centralia PA & Weiser State Forest
Centralia is the kind of town that really makes an impression on a planner. First of all, if you're not familiar – it's barely there anymore. It's in Columbia County, the heart of PA's anthracite coal region. It caught on fire underground, decades ago, and continues to burn. Most of the residents are long gone and large open mines line the roads between towns. It's highly apocalyptic.
So, of course, this is where my husband and I – both planners – picked as a day trip destination on the last day of 2021, itself a somewhat 
apocalyptic year. Centralia invites you to drive along cracked streets no longer lined with houses. It causes you to wonder about the people who remain, especially the ones spirited enough to decorate the town 'square' for Christmas. One stub street ends at a lonely cemetery and others peter out in moonscapes full of dirt bikes, gas vents, and off-road vehicles. A church with graceful onion domes – signs of a Ukrainian Catholic congregation – overlooks the bare crossroads that mostly counts as 'town' these days.
If you drive north through neighboring Aristes and over the ridge of Big Mountain, though, you'll find a very different landscape. The Roaring Creek Tract of Weiser State Forest is in many ways the greener, more peaceful side of Centralia's extractive, industrial coin. While my husband and I were wandering for miles on the Homestead Trail through the Roaring Creek's long and narrow valley, we wondered why it hadn't been touched much by development. Information available at park headquarters filled us in: a series of private water companies have owned the land since the 1880s. Several reservoirs were constructed but most other activities were limited. Fortunately for us, in the early 2000s, PA DCNR acquired the land. A water company retains facilities, dams, and reservoirs while the land is jointly managed as a high-quality water supply. Of note is the 8-mile Roaring Creek trail, a hardened trail following the valley floor that is popular with walkers, joggers, and bicyclists.
All photos courtesy of Amy & Justin Evans; article by Amy Evans
---
Great Places in PA: The SteelStacks
The SteelStacks in Bethlehem was designated as a Great Place in the Great Public Spaces category in 2014. The SteelStacks sit directly at the foot of the iconic blast furnaces of the former Bethlehem Steel site. For nearly a century, the Bethlehem Steel plant served as the economic lifeblood of the community, employing tens of thousands of people while producing the steel that built our nation's skyscrapers, bridges and even the U.S. Navy. The plant closed in 1995. Over the following ten years, the SteelStacks was transformed into a music venue and visitors center that incorporates many of the original historic characteristics. Since its opening in spring 2011, more than one million people have visited the SteelStacks to enjoy musical performances, films, community celebrations and festivals, including Musikfest. In 2019, the estimated economic impact of the SteelStacks was $70 million.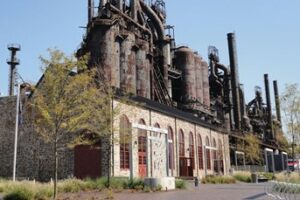 The COVID-19 pandemic has had a significant impact on the SteelStacks. ArtsQuest, the non-profit that operates the SteelStacks, lost over 90 percent of its revenue stream in 2020. The organization pivoted, offering much of its programming virtually, including Musikfest, which was viewed in over 40 countries. Other offerings, such as the Christkindlmarkt, were held outside or in a social-distant way. To learn more about the SteelStacks.
---
Communities Dealing with Changes: Warehouse and Industrial Development in the Lehigh Valley
Most PA planners are well aware of the warehousing boom in the Lehigh Valley region of eastern PA. Data collected by the Lehigh Valley Planning Commission (LVPC) via their land development, subdivision, and stormwater plan reviews highlights that warehouse growth is showing no signs of stopping in the two-county region (Lehigh and Northampton counties). And with the continuing effects of the Pandemic on the online and on-demand economy, developers continue to look for and identify opportunities across the region.
Since 2015, over 26.7 million square feet of new warehouse space has been approved by local governments in the region. According to the LVPC, the Lehigh Valley is on track to see a nearly 50% increase in total warehouse square footage with the region being located within a single truck driver shift serving over 100 million potential customers (Source: https://lvpc.org/lvpc-lvts-activities.html).
The pace at which warehouse development is taking place has and will continue to affect the Lehigh Valley's traffic volumes, number of employees, transit needs, emergency management services demand, and tax revenues. Communities in the Lehigh Valley are working closely with LVPC to understand these effects on their municipalities and how to manage the changes they are seeing from the large increase in warehouse development.
Explore these building trends in more detail on the LVPC's BuildLV page that tracks all current land development and subdivision plans in the two-county region.
---
Membership Benefits for Organizations  
Do you work with a municipal Planning Commission, Board, or Authority? Did you know that they can become members of the Pennsylvania Chapter of the American Planning Association?
With the vast number of municipal entities in Pennsylvania, chances are members of your Planning Commission are not all professional planners. In fact, most are probably not. However, organizations can join the PA Chapter of the APA, and your organization can reap the benefits available to planners.
Some of the benefits include:
Monthly updates on local planning news and trends
Reduced rates for educational classes and Annual Conference
PMPEI courses that are available throughout the state
Networking opportunities
These benefits are available for up to 10 members. Membership dues are based on the size of the government organization and range between $86-$279 per year. Five more members can be added for $15 each.
---
What do you want to hear about?
We'd like to know what topics you'd like to read about in the monthly Chapter newsletter. Please take our two-and-a-half-minute survey online.