The Latest News from PA Chapter of APA…
Water, Water, Water.  It's everywhere, and a critical issue for planners, particularly in this age of climate change and extremely disruptive storms and flooding.  This month, read about an award-winning green stormwater plan in Harrisburg, the creation of a very popular trail and park along the Schuylkill River in Philadelphia, making art out of stormwater projects, and even Zoom Towns, which are often places with nearby water-based recreation. Enjoy!
---

Barriers and Some Solutions to Affordable Housing
This session will dive into the specifics of the current landscape of affordable housing, focusing on Pennsylvania. It will describe some of the more frustrating aspects of building affordable housing and some steps that can be taken to help alleviate those concerns. The panel of speakers includes a design professional, a developer, and a construction practitioner who all can provide specific stopping points in the affordable housing process. Additionally, the panel will make a case for changes that can be made to help ensure a smoother housing development process in the future. 
CM credit is pending approval. Deadline to register is January 4, 2022
If you're interested in sponsoring a Webinar Wednesday session or have a session for Webinar Wednesday, please contact us. Send your request to info@planningpa.org.
---
Opportunities for Giving
Each year the Chapter offers a scholarship to support individuals seeking funds for academic degree programs, internships, and professional development activities.  If anyone would like to contribute to the Chapter's Scholarship fund, donations can be made here. We accept all major credit cards, or you can send a check. Please make your check payable to "PA Chapter of APA Scholarship Fund" and mail it to P.O. Box 4680, Harrisburg PA 17111.
---
AICP: Updates to the Certification Maintenance Program
New Mandatory Credits are beginning January 1, 2022, AICP members will be able to start logging two new mandatory credits in addition to Law and Ethics. One of the new mandatory credits is Equity, which will help planners build their skillsets in an area that is of pressing and lasting concern to communities across the country.
The other new credit is a targeted topic, which allows the AICP Commission to rotate the topic as they deem appropriate to reflect the professional development needs of planners in a rapidly changing world. The topic for this targeted credit beginning January 1, 2022, will be Sustainability and Resilience, recognizing the growing need for planners to help their communities prepare for issues like climate change, sustainable development, and hazard resilience. More information. 
---
Trending Term Time: Zoom Towns are the New Boom Towns
It shouldn't surprise us that, as telework grows, many people are looking for homes in eminently livable communities. Home is, after all, where remote workers spend the bulk of their time. Housing markets that are booming as remote work takes off now have a catchy name: Zoom towns.
Zoom towns are often vacation spots – small towns and mid-size cities with (relatively) affordable homes. Boise, Idaho. Roanoke, Virginia. They're typically towns near plentiful outdoors and leisure opportunities. Burlington, Vermont. Butte, Montana. Almost anywhere in Colorado. Remote workers are looking for more space and more privacy. Some Zoom towns are like Cary, North Carolina, or Lewisburg, Tennessee, both of which are smaller communities easily accessible from nearby larger cities.
Zoom towns might seem like a phenomenon of the American West, but a recent study by ownerly.com rated Lebanon, York, and Lancaster as three of the top five cities in the nation for remote work. Lebanon, in fact, took the top spot based on its affordable housing, choice in broadband access, and green space.
Regardless of location, Zoom towns are an early sign of what promises to be a tremendous set of pandemic-driven impacts on land use patterns and demands on us as community planners. APA PA plans to examine these throughout our 2022 visits to your inbox. We also want to hear from you about the topics and questions most relevant to your work, as well as what you're seeing on the ground in Pennsylvania. Look for a survey soon! 
---
Schuylkill Banks Trail and Greenway
In 2015, Schuylkill Banks was designated as a Great Place in the Greenways and Trails category. Schuylkill Banks is an easily accessible 2-mile trail/greenway along the Schuylkill River in the heart of Philadelphia. The trail/greenway is also part of the larger Schuylkill River Trail. Schuylkill Banks has transformed a formerly industrial site into an amenity that attracts an average of 28,000 user trips/week. It is a vital commuter corridor, recreational amenity, and green oasis in a dense urban environment. Among the many amenities are large shade trees, native vegetation, benches, water fountain, composting restroom, lighting, public art, a public dock, interpretive signage, seasonal programming, and a visitor center. 
Schuylkill Banks is also working to address stormwater runoff. In 2015, Schuylkill Banks developed a Greenway Stormwater Management Plan to identify solutions to address stormwater issues. Schuylkill Banks has installed rain gardens in areas along the trail that are prone to erosion.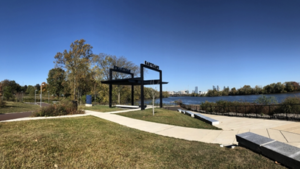 In November 2021, Schuylkill Banks opened a new section of trail from the 56th Street Plaza to 61st
Street. As part of the construction of this new section, Schuylkill Banks constructed stormwater infiltration basins, planted trees and restored approximately 1.6 acres of degraded industrial land to a naturalized meadow condition.
To learn more about the Schuylkill Banks, visit schuylkillbanks.org/
---
Award Winner from the Archives
2017 APA PA Planning Excellence Award: The Capital Region Community Greening Plan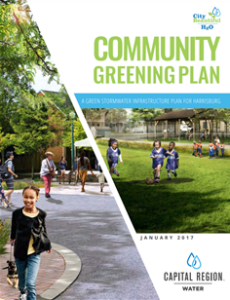 With its Community Greening Plan, Capital Region Water, the water infrastructure utility for the City of Harrisburg, committed to implementing green stormwater infrastructure throughout the city. Capital Region's unique plan was driven by the community. During the planning process, the utility staged "community greening parties" and engaged over a thousand residents from every neighborhood, many of whom became Community Ambassadors in leadership roles. The plan includes a city-wide analysis of opportunities to implement green infrastructure and provides illustrations and guidance for incorporating green infrastructure in homes, neighborhoods, streets and alleys, schools, parks, and vacant lots. This work, similar to what Philadelphia has done to address its combined sewer overflows in its nationally-recognized efforts, demonstrates that innovative stormwater approaches to address combined systems is applicable everywhere. 
---
Municipalities in Pennsylvania have been fully immersed in their stormwater regulations and requirements since PADEP rolled them out in 2003. Green Infrastructure and Low Impact Development has become part of our day-to-day discussions in land development and planning practices. However, another aspect to consider is how art can address a range of planning goals and objectives related to green infrastructure and create a higher impact on important projects.
From simple projects like storm drain art to larger projects that impact whole parking lots, art can be utilized to turn stormwater runoff into an asset and educational opportunity for those utilizing the space. According to the artful rainwater design website, "For a design to be truly sustainable, people have to love it." Stormwater art projects provide a path for rainwater to be controlled while improving people's connection to nature and the environment.
Check out some examples of stormwater art projects.