Big changes in 2022 for AICP certified planners and aspiring AICPs!
First, APA is changing its criteria for mandatory CM credits. Of the 32 CM credits required during the two-year reporting period, four topics are now mandatory: law, ethics, equity, and sustainability/resilience. Each topic will require 1 CM credit every two years. For more information visit: https://www.planning.org/cm/credits/ The Chapter Professional Development Committee has Webinar Wednesdays planned during 2022 to help you meet these mandatory credits with our free, lunchtime series the first Wednesday of every month. Our February 2, 2022 session will be an Equity session so be sure not to miss it!
Secondly, for all aspiring AICP's, APA is changing the AICP certification process in 2022 where you can now take the exam before earning your years of professional experience. You will earn the "AICP Candidate" designation after you pass and then later submit education, work verification, and experience assessment to achieve AICP certification. For more information on APA's One Path Program visit: https://www.planning.org/certification/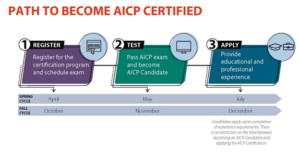 For any questions about the Webinar Wednesday series, the new mandatory CM credits, or APA's One Path Program, please send an email to info@planningpa.org.
Alexis Williams, AICP, PP
Professional Development Officer (PDO)