Congratulations to the 2023 Great Places in PA!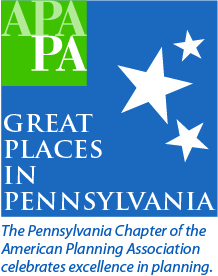 The Pennsylvania Chapter of the American Planning Association is proud to announce the 2023 Great Places in PA. Great Places are unique, memorable places that display a wealth of best practices in community planning, serve as a community focal point, and strengthen the local economy. They also demonstrate the rewarding results that occur through planning, partnerships, and community engagement.
2023 marks an important milestone in the Great Places in PA program – 10 Years of designating Great Places throughout the Commonwealth. This has included a mix of Great Greenways/Trails, Neighborhoods, Public Spaces, Streets, and Transformations.
For 2023, the categories were Great Public Spaces and Great Transformations. Two Great Places were designated in each category. There are now 55 designated "Great Places in PA" located in 33 of the Commonwealth's 67 counties.
A Great Public Space is a vibrant place that fosters a sense of community through people of all ages and abilities gathering to play, socialize, enjoy a meal or concert, relax, or just enjoy the outdoors. It is a focal point for community events, which bring people together and bolster the economy. Below are the 2023 Great Public Spaces.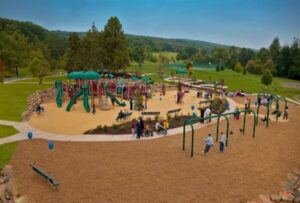 McDade Park, located on the outskirts of Scranton in Lackawanna County, was created in the 1970s on reclaimed coal mining terrain. Over time, this 180-acre park has evolved into a regional destination for both active and passive recreation, as well as cultural activities. Its many amenities are interwoven into the rural landscape of the park and serve people of all ages, abilities, and needs. Among the popular recreational attractions are the boundless playground, swimming pool, splash pad, fishing pond, sports fields/courts, and hiking trails. The Park is also home to the Lackawanna Coal Mine Tour Complex, PA Anthracite Heritage Museum, Butterfly Garden, and the Cancer Memorial Garden and Arboretum. A variety of events held throughout the year attract many visitors. Park planning, development, and maintenance results from a collaborative effort between the County and City, with community input. McDade Park is a regional treasure that not only connects residents and visitors to the natural environment, heritage resources, and an abundance of recreational activities, but also serves to strengthen the local economy.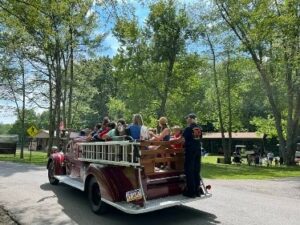 Pearson Park in Neshannock Township, Lawrence County, consists of 105 acres of land donated to the Township in the 1950s by Mary Pearson for use by the residents. With dedication from Township officials, support groups, and residents, the Park has evolved into one of the key recreation and community gathering areas not only in the Township, but also the County. Among the popular attractions that provide activities for people of all ages and abilities are the animal kingdom playground, sports fields/courts, swimming pool, ice rink, community center, and a scenic walking trail with fitness stations. Additionally, events, such as sports tournaments, 4th of July Festival, and Holiday Lights Show, draw thousands of visitors to the area and boost the local economy. The 2018 Parks and Recreation Plan continues to guide development of the park to meet local needs. Ongoing operations and maintenance are supported with rental fees from the community center. Without a formal "town center," it is said that Pearson Park, which thrives as a busy and energetic place, represents the vitality and heart of the Township.
A Great Transformation is revitalization of a place that was not thriving, and which was negatively impacting a community. Examples include a deteriorated shopping center or building retrofitted to be a viable use, a failing commercial or industrial corridor revitalized to be economically viable, a rejuvenated neighborhood, an historic rehabilitation, and a brownfield to park conversion. Transformations strengthen communities and the local economy.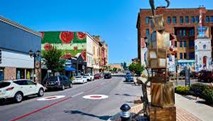 Downtown Pittston in Luzerne County had reached a critical low point in the late 1990s, with limited general funds, high taxes, and downtown occupancy of less than 25%. The turning point was development and implementation of a revitalization plan that focused not only on downtown development, but also neighborhood stabilization, infrastructure improvements, and more. The formation of a redevelopment authority and "Downtown Tomorrow" organization proved to be instrumental in bringing about reinvestment and restoration activities. Today, people say "Downtown Pittston excels in being at the intersection of both a place and an experience." It is home to a variety of thriving shops, restaurants, offices, service businesses, and cultural venues. Streetscape improvements, murals, and artwork have made the downtown more attractive and safer. Additionally, the downtown is host to many events, such as the Tomato Festival, St. Patrick's Day Parade, Farmers Market, and Second Friday, that have helped to make Downtown Pittston a regional destination. The City's planning and collaborative efforts with public, private, and non-profit entities, together with its success obtaining grant funds, have created a vibrant downtown and stronger community.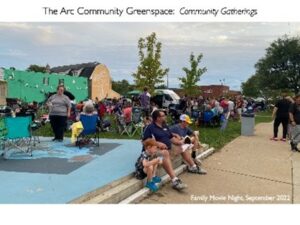 The Arc Community Greenspace is located adjacent to the Arch Street Gateway into downtown Meadville, Crawford County. It was previously a blighted lot occupied by a dilapidated building, which posed a threat to the community. In response, The Arc, City of Meadville, and Art & Environment Initiative began collaborating in 2018 to address these issues. Stakeholder meetings and community engagement events resulted in a community-inspired vision for the site. Subsequently, a myriad of in-kind services, together with public/private funding, brought the site design to fruition. The outcome is a vibrant community gathering place that incorporates native landscaping, streetscape improvements, a performance stage, benches, colorful shade umbrellas, solar-powered umbrella tables that provide free WiFi and evening lighting, and an ADA-accessible walkway. Unique to the design is that the painted walkway has the appearance of a stream to highlight historic Mill Run that runs underneath. It has spurred improvements to neighboring properties and strengthened stakeholder synergies. The Arc Community Greenspace clearly demonstrates how several years of strategic planning and collaboration can result in transforming a once-blighted property into a cherished community asset and economic development driver.
In recognizing the 2023 Great Places, APA-PA also celebrates the many community leaders, officials, professionals, and residents who contributed to making these places "great." A special thank-you is also extended to the dedicated panel of judges that volunteer their time to review and rate the nominations, as well as select the Great Places.
When traveling or seeking adventure, consider visiting PA's "Great Places." More information about the 2023 Great Places and previously designated Great Places is available on the Chapter website (www.planningpa.org). Stay tuned for the opportunity to nominate Great Places in 2024. It's not too early to start thinking about great places to nominate in your community. The categories will again be Great Public Spaces and Great Transformations. You are strongly encouraged to review the category criteria and tips for submitting a good nomination in advance.