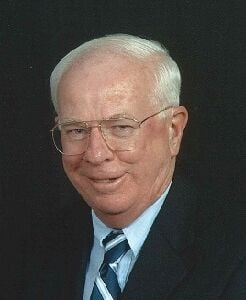 John was born in Orange, NJ to the late Herman William Carl Ahlfeld and Margaret Hughes Ahlfeld. He graduated from Westfield High School in Westfield, NJ then pursued higher education earning a Bachelor of Architecture, then a Master of Regional Planning from Cornell University. John was in ROTC at Cornell and proudly served in the United States Navy Reserves in Washington, D.C.
John served as a Lancaster County Planner for 20 years, 18 years as their Director, and was the Executive Director of the Lancaster Intermunicipal Committee for 20 years. He focused on collaboration for planned growth of Lancaster taking into account the historical and agricultural heritage of the county in the development of the first County Comprehensive Plan, Chickee's Rock, Conestoga Greenway, and other projects. John was a member of the American Institute of Certified Planners, the Pennsylvania Planning Association–where he served a term as President, and was the Chairman of the Manor Township Planning Committee for 32 years. He was a long-time member of the Lancaster Historical Preservation Trust, and the Lancaster County Conservancy for farmland preservation.
John and his wife Alice collected and sold early American pattern glass and were founding members of the Early American Pattern Glass Society. He enjoyed nothing more than spending time at Culver Lake, a pastime shared with 3 generations of his family. John served on the Normanoch Board and as a Trustee for the Culver Lake Christ Union Chapel with 20 years as their President. He supported Penn Manor High School Band Boosters and Boy Scouts of America. John also enjoyed playing bridge and trivia with his wife and friends, collecting stamps and researching family genealogy. He was a member of the First United Methodist Church in Lancaster, PA for over 50 years and served on the church's advisory board.
John is survived by his wife of 57 years, whom he met in kindergarten, Alice Heiple Ahlfeld; his children, Roger Carr Ahlfeld and wife, Mary, John Stewart Ahlfeld and wife, Kristen, and Elizabeth Ahlfeld Single and husband, Craig; his grandchildren, John Charles Ahlfeld, Emily Carr Ahlfeld, Anna Christine Arscott, Lewis James Arscott, Cory David Arscott, Margaret "Maggie" Louise Ahlfeld, Caroline Noelle Ahlfeld, Andrew Philip Single and Daniel Armstrong Single; and his brothers, Leonard Hughes Ahlfeld and Richard Burnett Ahlfeld.Graveside services for John will be held privately in Frankford Plains Cemetery in Augusta, NJ. Memorial Services will be held at a later date in Lancaster, PA and at Culver Lake, NJ. 
In lieu of flowers, donations may be made to the Greater Culver Lake Watershed Conservation Foundation by going to www.gclwcf.org.Arrangements are under the direction of Wood Funeral Home 16 Main St, Branchville, NJ. Online condolences may be offered at www.woodfuneralhome.com