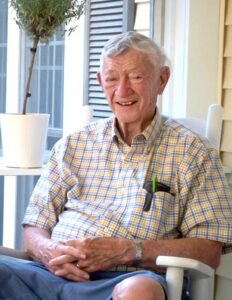 George retired from the Chester County Planning Commission (PA) in 1995, having served as the Executive Director since 1976. Previously, he served in similar roles for the Bucknell University Institute for Regional Affairs, Berks County Planning Commission (PA), and Rockland County Planning Commission (NY). After retiring from Chester County, George taught at West Chester University, retiring from that role in 2015. In addition, he taught at various times for Bucknell University, Susquehanna University, Penn State University, Albright College, the Pennsylvania Department of Community Affairs, the Pennsylvania Boroughs Association, and the Pennsylvania Municipalities Planning Education Institute.
George maintained a private consulting practice as well and served on a number of boards, task forces, and commissions and volunteered his time with many organizations related to his role as a Professional Planner. Professional affiliations included the American Planning Association, the American Institute of Certified Planners, the Community Association Institute, the Urban Land Institute, and the Philadelphia Geographical Society. George authored and co-authored numerous County and Municipal Comprehensive Plans, Regional Transportation Plans, Subdivision and Zoning Ordinances, instructional materials, and research reports.
He was an active and enthusiastic outdoorsman who loved hiking, birding, and spending time in nature. He enjoyed playing and watching sports, including being an avid tennis player and member of the Chester County Planning Commission softball team. One of his greatest joys was driving his Farmall Cub tractor around the grounds of Fox Hollow, the cabin and property he and Nancy owned in Snyder County, PA. 
The George Fasic Planning Endowment, supporting students majoring in Geography & Planning at West Chester University, checks payable to the WCU Foundation, Memo: George Fasic, 202 Carter Drive, West Chester, PA 19382. Online gifts may be made at https://www.wcufoundation.org/tribute-gifts/, using the endowment fund name or number 2225-802 or to First Presbyterian Church at the address above. Read more…