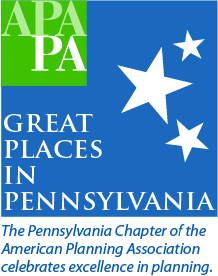 Congratulations to the 2022 Great Places in PA Award Winners!
The Pennsylvania Chapter of the American Planning Association is proud to announce the 2022 Great Places in PA. Great Places are unique, memorable places that display a wealth of best practices in community planning, serve as a community focal point, and strengthen the local economy. Great Places build healthy and resilient communities through forward-thinking planning with a vision for tomorrow, community partnerships, and stakeholder engagement.
For 2022, the Great Places categories were Great Public Spaces and Great Greenways/Trails. Submissions are reviewed by a panel of seven judges resulted in the designation of two Great Public Spaces and three Great Greenways/Trails the 2022 Great Places in PA. This brings the total number of Great Places celebrated across the Commonwealth to 51.
In past years, other categories have included Great Neighborhoods, Great Streets, and Great Transformations. The designated Great Places in each category are high quality examples of successful planning efforts throughout the Commonwealth. Sharing and promoting these places helps to achieve the PA Chapter's mission and vision.
---
Great Public Spaces
A Great Public Space is a vibrant place that fosters a sense of community through people of all ages gathering to play, socialize, enjoy a meal or concert, relax, or just enjoy the outdoors. It is a focal point for community events, which bring people together and bolster the economy. Below are the 2022 Great Public Spaces.
---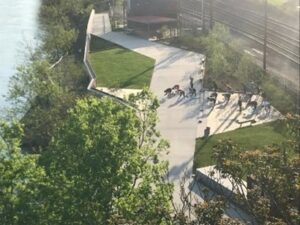 Etna Riverfront Trail and Park (Etna Borough/Allegheny County): The Borough transformed a 1.8 acre neglected brownfield site along the Allegheny River into a vibrant ADA-accessible linear park and trail. A master planning process, with considerable public engagement, laid the foundation for redevelopment, which occurred in three phases over a seven year period. Coming to fruition in October of 2021, the Riverfront Trail and Park is another step forward in the Borough's revitalization efforts. The Trail plays a critical regional role by fulfilling a significant trail gap in the Three Rivers Heritage Trail and simultaneously the Erie-to-Pittsburgh Trail, a 125 mile trail that connects to the Allegheny Passage. The Trail and Park celebrate the site's industrial past through its use of weathering steel, concrete, and wood, while also incorporating contemporary features. Notable enhancements include a pavilion, stage, trail hub, scenic overlooks, ecological components, and the unique use of safety barriers to provide opportunities for artistic expressions that interpret and celebrate the evolution of Etna. The Trail and Park is a popular site for concerts, performances, outdoor yoga, and other community events that attract many visitors. This local treasure has resulted in environmental, economic, and recreational benefits for not only the Borough, but also the region. 
---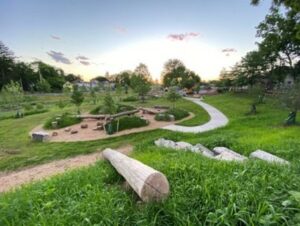 Bull Run Greenway (Lewisburg Borough/Union County): This stream side public space, envisioned through a community planning and design process, serves both environmental and recreational purposes. A key improvement in the Greenway was the complete restoration of Bull Run, including reconnection to the floodplain and creation of wetlands. This reduces flooding, improves water quality, and provides an opportunity for environmental education. The landscape of the Greenway was also enhanced with native grasses, shrubs, and trees, including a riparian buffer and food forest. For recreation, the Greenway offers nature based play areas, ADA accessible sidewalks/trails, and accommodates an extension of the Buffalo Valley Rail Trail, which connects to Bucknell University. The Greenway is also home to a variety of festivals and concerts that attract visitors throughout the region. This local treasure, adjacent to the downtown, connects people of all ages to the natural environment and is a catalyst for neighborhood revitalization and economic development.
---
Great Greenways/Trails 
A Great Greenway/Trail is a linear parcel of land or right-of-way set aside to preserve/protect open space, scenic landscapes, historical resources, natural resources, and plant/animal habitats. It is easily accessible, serves to connect people and places, and is used by people of all ages. A great greenway/trail is an economic generator for communities and is often a focal point for social events and festivals that bring people together. The 2022 Great Greenways/Trails include the following.
---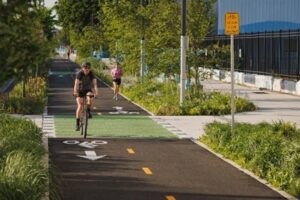 Delaware River Trail (City of Philadelphia): This 3.5 mile urban riverfront trail was envisioned in the Master Plan for the Central Delaware adopted by the Philadelphia City Planning Commission in 2012. An extensive public engagement process contributed to the planning and final design. The Trail is constructed of a variety of durable paving materials to minimize maintenance and features ADA ramps, solar powered lighting, solar canopy benches, hundreds of shade trees, and thousands of native plantings. Some plantings provide a buffer between the roadway and the Trail, while others enhance the urban landscape, provide habitat, and assist with stormwater management. There are multiple access points and connections to Cherry Street Pier, retail, restaurants, cultural facilities, parks, transit networks, and a regional bike network. Additionally, the Trail comprises a segment of the East Coast Greenway, which stretches from Florida to Maine. Designed to accommodate users of all ages and abilities, the Trail regularly attracts thousands of residents and visitors who enjoy the Trail features/events and contribute to the vibrancy of the local economy. The Trail has also been a catalyst for private investment in the adjacent neighborhoods. Under the operation and stewardship of the Delaware River Waterfront Corporation, there is a strong commitment to sustain this vibrant community asset.
---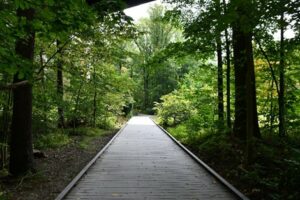 Fourmile Creek Trail at Wintergreen Gorge (City of Erie):  This 1.2 mile Trail is located on the Penn State Behrend Campus and extends from the bottom to the top of the Gorge. The Trail surface is a compacted aggregate mix that not only reduces erosion and the Trail's carbon footprint, but also provides for accessibility by strollers and wheelchairs. Other eco-friendly features include carbon neutral bamboo boardwalks that protect wetlands and natural drainageways, raingardens that capture and infiltrate stormwater, and stone blocks reused as benches. These improvements resulted from implementation of the Sustainable Trail Master Plan, completed in 2014 through an extensive public involvement process. Users of the trail come from near and far to experience the unique geologic and natural features of the Gorge, fishing access, interpretive signage, important bird habitats, and distinctive plant species, meadows, and floodplain forest. Additionally, the Trail and Gorge serve as an "outdoor laboratory" for student projects. Access to the Trail is available from trailheads at either end, as well as from the Bayfront Bikeway and Erie bus system. The Fourmile Creek Trail, which bolsters the local economy, is a community gem for walkers, bicyclists, and hikers of all ages and abilities. A strong commitment to land stewardship and maintenance will sustain the trail for future users.
---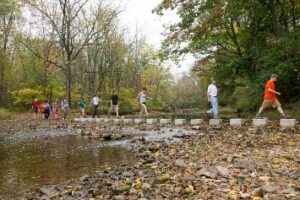 Green Ribbon Trail and Preserve (Montgomery County): This 12.6 mile trail follows the Wissahickon Creek and travels through 578 acres of preserved land in six townships and two boroughs. This scenic and much-used Trail and Preserve evolved over a period of 50 years with guidance from a Master Plan and the collaboration of Wissahickon Trails, municipalities, and private landowners. Diverse landscapes and habitats, as well as historical structures and interpretative signage, are found along the Trail, which provide for scenic views, a glimpse of the past, and opportunities for on-trail education. Nine parking areas and 18 walk-in access points connect the Trail to adjacent neighborhoods and other preserves. Additionally, the Trail is accessible from four train stations and connects to the Crossways and Penllyn Pike Trails. The Trail and Preserve is used by local residents and visitors of all ages for running, walking, birding, horseback riding, sports training, and more. Planned hikes and nature programs occur on a regular basis and are well attended. Wissahickon Trails has a strong commitment to sustain this vital regional asset, which spurs local economies and promotes community pride, through its staff, a volunteer Conservation Crew, partnerships, and philanthropic efforts.
---
In recognizing the 2022 Great Places, APA-PA also celebrates the many community leaders and officials, professionals, and residents who contributed to making the Great Public Spaces and Greenways/Trails. Please consider visiting the Great Places in PA during your travels. Information about all the Great Places is available on the Chapter website at (https://planningpa.org).
Stay tuned for the opportunity to nominate 2023 Great Places in the Public Spaces and Transformation categories. However, now is the time to start thinking about great places to nominate in your community. Past designees have used their Great Place recognition to bolster grant applications, economic development efforts, and public relations outreach.
---
A special thanks to our 2022 Great Places judges
Chair of Great Places Initiative: Pam Shellenberger, AICP, York County Planning Commission                                
Judges:
Julie Fitzpatrick
PA Downtown Center
Brian Auman
Brian S. Auman Landscape Architecture
Kate McMahon, AICP
NEPA Alliance
David Schwartz, PE, AICP, PP
Bergmann, Associate
Travis Siegel
Northwest Commission
Jim Segedy, FAICP
The Planning Guild
Dick Koch
Gannett Fleming (retired)