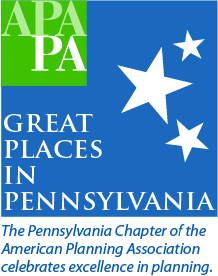 Congratulations to the 2019 Great Places in PA Award Winners!
The Pennsylvania Chapter of the American Planning Association is proud to announce our 2019 Great Places in PA. Great Places are unique, memorable places with a sustainable vision for the future. They exhibit high quality character, cultrual interest, community involvement, walkability and connectivity. Great Places also demonstrate the rewarding results that occur through community partnerships, planning and dedication.
For 2019, the Great Places categories were Great Public Spaces and Great Transformations. The designated Great Places in each category provide are high quality examples of successful planning efforts throughout the Commonwealth. Sharing and promoting these places helps to achieve the PA Chapter's mission and vision.
---
Public Spaces
A Great Public Space is a vibrant place that fosters a sense of community through people of all ages gathering to play, socialize, enjoy a meal or concert, relax, or just enjoy the outdoors. It is a focal point for community events, which bring people together and bolster the economy. Below are the 2019 Great Public Spaces.
---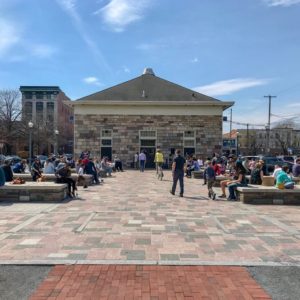 Broad Street Market (Harrisburg, Dauphin County): The Market, which consists of two buildings known as the "Stone Building" and the "Brick Building," is located in the City's Midtown neighborhood amidst a mix of residences and local businesses. It's been functioning for over 150 years and has the distinction of being the oldest continuously operating farmer's market in the United States. The Market is host to a unique mix of venders that attract customers from the City and across the region. Of note is that the Market has been a start-up hub for some venders to expand by adding a separate neighborhood business, further stimulating the local economy. The Market is a hot spot during lunchtime, as well as on 3rd Fridays when the Market participates in the City's "3rd in the Burg" event with an offering of live music and vendors staying open late. Through planning, partnerships, and the efforts of the Broad Street Market Alliance, the architecture and historic character of the Market has been preserved and the Market has continued to serve as gathering place and economic hub for the community. With its unique characteristics, diversity of vendors, entrepreneurship and employment opportunities, and community engagement, this Great Public Space is a treasure that contributes to the increasing vitality of the Midtown neighborhood.

---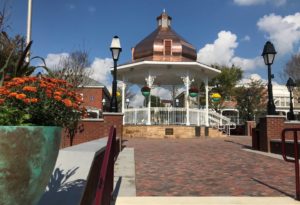 Ligonier Diamond Park (Ligonier Borough, Westmoreland County): This historic park, established in 1894, is centrally located in the Borough's downtown business district. It serves as a destination and popular gathering place for residents and visitors year-round. Unique features include the iconic copper-domed gazebo that functions as a bandstand, decorative dimmable lamp posts, a snow melt system in the walkways, connectivity to the downtown, and accessibility for people of all ages. Community events, such as Fort Ligonier Days, the Ligonier Ice Festival, and the Summer Band Concert Series attract many residents and visitors, which spurs economic activity in the downtown. Through planning and local stakeholder partnerships, the Park continues to receive strategic improvements to enhance its character, usability, and appeal. With its diversity of events, unique characteristics, opportunities for social interaction, and connection to the downtown, this Great Public Space is a gem that contributes to the charm of Ligonier Borough.
---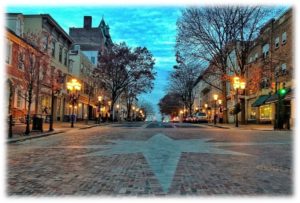 Main Street Bethlehem (Bethlehem, Northampton County): Bethlehem's Main Street is the gateway to the City's greater downtown area. This flourishing two-block area reflects the historic and cultural flavor of the City through its architecture, iconic lampposts, blacksmith shop, museums, and the Colonial Industrial Quarter, which is considered to be America's earliest industrial park. Intertwined is an eclectic mix of boutique shops, restaurants, the Moravian bookshop, and other local businesses. Main Street is also host to an array of community events that attract thousands of residents and visitors, ranging from historic walking tours and Harvestfest to Musikfest and Christmas City Village. The area is easily accessible to visitors and residents in adjacent neighborhoods. Together, Main Street's walkability, historic character, diversity of businesses, and variety of events promote social interaction and enhance the local economy. Also contributing to the prosperity of Main Street is ongoing planning, partnerships, and collaboration. This Great Public Space demonstrates much community pride.
---
Transformation
A Transformation involves revitalizing a place that was not thriving. Some examples include a deteriorating shopping center/mall retrofitted into a mixed-use community, a vacant industrial building transformed into apartments, a failing commercial or industrial corridor reenergized to become economically viable, or a rejuvenated neighborhood. Through planning and collaboration, transformations strengthen communities and the local economy. Below is the 2019 winner for Great Transformation.
---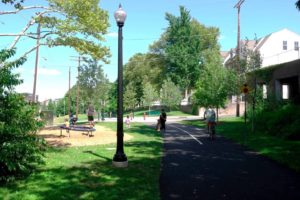 South Bethlehem Greenway (Bethlehem, Northampton County): This strip of land was originally part a thriving passenger and industrial freight line corridor. However, with the demise of rail use following closure of Bethlehem Steel in the mid-1990's, the corridor became a community eyesore. With a vision to eradicate the blight, spur economic activity, and create opportunities for recreation, the City of Bethlehem stepped up to the plate, acquired the land, and developed the South Bethlehem Greenway Master Plan. An extensive planning process, with considerable public and stakeholder input, culminated with adoption of the Plan in 2005. Implementation of the Plan evolved through many public-private partnerships, financial investment, and community support. These efforts resulted in a vibrant linear park that has had a robust positive impact on the community. It features a walking/biking trail, connections to adjacent neighborhoods, a community garden, public art, and a skate plaza at the eastern end. The greenway is also host to an array of events that attract many residents and visitors. Additionally, this amenity has triggered investment in, and revitalization of, neighboring properties and beyond. The South Bethlehem Greenway clearly demonstrates how many years of planning, collaboration, and strategic thinking can result in transforming a once-blighted and underutilized space into a cherished community asset and economic development driver.
---
A special thanks to our 2019 Great Places judges
Chair of Great Places Initiative: Pam Shellenberger, AICP, York County Planning Commission
Judges:
Julie Fitzpatrick, Assistant Director/Special Projects Coordinator
PA Downtown Center
Tom Hylton, Founder
Save Our Land, Save Our Towns Inc.
Sidney R. Kime, Jr., RLA, FASLA, Studio Director
The ELA Group (Lititz)
Kate McMahon, AICP, Senior Transportation Services Manager
NEPA Alliance
Doniele Russell, Deputy Director of Community Development
Lawrence County
David Schwartz, PE, AICP, PP, Associate
CHPlanning
Jim Segedy, FAICP, Director, Community Planning + Design
The Planning Guild
Kim Wheeler, AICP, Deputy Director
Lycoming County Planning & Community Development