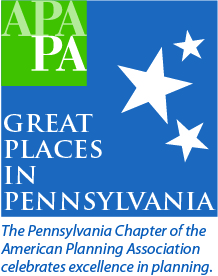 Congratulations to the 2016 Great Places in PA Award Winners!
The Pennsylvania Chapter of the American Planning Association is proud to announce our Great Places for 2016 in two categories: Great Streets and Great Greenways/Trails. Great Places are unique, memorable places that work not only for their community, but as a model others want to emulate – places of exemplary character, quality, planning, identity, cultural interest, and community involvement with a sustainable vision for tomorrow.
---
Streets
Butler Avenue, Ambler
(Montgomery County)
A four block stretch of Butler Avenue, extending from the Ambler Train Station to Lindenwood Avenue, is the focal point of Ambler Borough's Central Business District. It underwent a transformation in the early 1980's that involved new curbs/sidewalks, street regrading, parking reconfiguration, streetscape improvements (lighting, landscaping, trees, signage & street furniture), and careful consideration of pedestrian safety. The improvements, which have a Victorian theme, revitalized the downtown core into a pedestrian friendly shopping district. Butler Avenue is now home to a wide variety of restaurants, stores and offices, the Act II Playhouse, and many community events.  Among its prominent structures are the refurbished Ambler Theater (1927) and the Wyndham Hotel (1894). "Ambler Main Street" maintains the vitality of Butler Avenue with its support of local businesses and promotion of the downtown as a social, cultural and business center. Many visitors are drawn to the diverse downtown offerings and community events, such as the Ambler Arts & Music Festival, Auto Show, Octoberfest, Christmas Parade, First Friday activities, weekly Farmers Market, and two Restaurant weeks.
---
Penn Avenue, Pittsburgh
(Allegheny County)
Penn Avenue, a five-mile corridor, is an important local street that celebrates many unique neighborhoods and has been a catalyst for development. It provides multi-modal infrastructure, enhances neighborhood character, and emphasizes pedestrian safety. Within the downtown cultural district, Penn Avenue is lined with retail shops, restaurants, pocket parks, parking, and public art initiatives. Downtown is experiencing a development boom and is a vibrant area for walking, biking, and transit. Entering the Strip District, Penn Avenue transforms into a bustling marketplace and pedestrian way. It is often used for events, including Pittsburgh's first annual Open Streets festival that attracted 15,500 people to walk, bike, dance, glide and play. Beyond the Strip, Penn Avenue bifurcates into several East End business districts. Phase 1 of a pedestrian improvement project resulted in significant safety amenities that incorporated stormwater management into the redesign. Public art, in the form of glow-in-the-dark seating, was also added. Lastly, Penn Avenue continues into East Liberty where it fronts the newly renovated East Liberty Transit Center and associated mixed-use development. Walking, bicycling, and transit usage, as well as pedestrian safety, public art and stormwater management are promoted throughout the corridor, yet, each segment is unique and livable for different reasons.
---
Greenways/Trails
D & L Trail
(Carbon, Luzerne, Lehigh, Northampton and Bucks counties)
The D & L Trail is located along the Delaware and Lehigh Rivers and follows the 165-mile historic pathway that anthracite coal took. It has resulted from a public-private partnership, with the D & L Corridor organization working with landowners and stakeholders to conserve cultural and natural resources in the five-county region. The Trail offers opportunities for walking, running, hiking, bicycling, cross country skiing, and snow shoeing. With 44 trailheads, the trail is accessible to thru travelers, as well as daily recreational users and commuters. Respondents to a 2012 user survey included people from three countries and 17 states, with the majority being from 27 different counties in Pennsylvania.  Trail users experience diverse geography and cultural landscapes, as well as an incredible variety of scenery, communities, landscapes and nationally significant heritage attractions. Communities along the D & L Trail embrace it as a meeting place for festivals, races and other events that bring people together. Additionally, the Trail serves as the long distance spine for other regional trails such as The Circuit, East Coast Greenway, 9-11 Memorial Trail, and Ironton Rail Trail.
---
Great Allegheny passage
(Allegheny, Fayette, somerset, and Westmoreland Counties; also Allegany County, MD)
The Great Allegheny Passage (GAP) is a 150-mile non-motorized trail that extends from the forks of the Ohio River at Pittsburgh to Cumberland County, MD, where it joins with the C & O Canal Towpath, and links to Washington, D.C., for a combined total of 334.5 miles. There is also a 52-mile spur connecting downtown Pittsburgh with the Pittsburgh International Airport. The GAP provides opportunities for hikers, bicyclists, cross country skiers and people with disabilities to discover the region's beauty in river gorges, mountain vistas and sweeping cityscapes and experience waterways, wildlife, plants and rock formations. Rehabilitated massive railroad bridges and tunnels let trail users pass through the Allegheny Mountains, not over them. There are numerous trailheads that offer parking, water and toilets, as well as four Visitor Centers that provide amenities and information. Additionally, more than 30 interpretive signs have been installed to date. Over 750,000 people, from all over the globe, visit the GAP annually with estimated spending of over $12 million/year in the trailside communities. The Allegheny Trail Alliance, working in partnership with the two states, five counties, multiple municipalities, and other stakeholders, was responsible for bringing the GAP to fruition and continue to be engaged in its stewardship.
---
Schuylkill banks trail & greenway
(Philadelphia County)
Schuylkill Banks is an easily accessible 1.4-mile trail/greenway along the Schuylkill River in the heart of Philadelphia. The Trail/Greenway is also part of the larger Schuylkill River Trail, planned to be more than 130 miles when completed, as well as The Circuit Regional Trail and the East Coast Greenway. It connects users to the riverfront, local parks and cultural institutions. Schuylkill Banks has transformed a formerly industrial no-man's land into a beloved amenity that attracts an average of 28,000 user trips/week. It is a vital commuter corridor, recreational amenity, and green oasis in a dense urban environment. Among the many amenities are large shade trees, native vegetation, benches, water fountain, composting restroom, lighting, public art, a public dock, interpretive signage, seasonal programming, and a visitor center. Schuylkill Banks provides opportunities for trail users to relax or engage in activities, such as fishing, picnicking, creative arts, and unstructured play. The Schuylkill River Development Corporation performs daily maintenance and is working with the City to extend the Trail/Greenway an additional 6.6 miles to connect with the west riverbank. The Trail/Greenway serves as a backyard for many and plays a major role in intercepting stormwater runoff before it reaches the river.
---
Walkable Warren
(Warren County)
The Walkable Warren corridor connects an existing bike trail that enters the City of Warren from the north and a major park on the west side of town. Parking is available at both entry points. The corridor was the brainchild of a unique partnership involving the City, Warren County, the County Transit Authority, Experience, Inc., the Warren/Forest Area Agency on Aging and the Allegheny Community Center. Utilizing signage, the partnership encourages drivers to park their vehicles on the outskirts of town, then, together with their passengers, walk or bike into town. The signage directs pedestrian and bicycle traffic through the back streets of the community past older and amazing architecture, City parks, the retail sector, the community center, and the beautiful scenery offered by the Conewango Creek and the Allegheny River. Walkable Warren promotes healthy lifestyles among residents and visitors by providing a fun, friendly way to exercise without even knowing it. The project has increased the number of visitors to the City, improved the health of residents, and contributed to a sense of place and community pride. One noteworthy aspect of the corridor is that the cost was minimal. Walkable Warren took advantage of existing infrastructure and its multiple use characteristics to create a safe and pedestrian friendly walking/biking corridor for residents and visitors of all ages.
---
A special thanks to our 2016 Great Places judges
Chair of Great Places Initiative: Pam Shellenberger, AICP, York County Planning Commission
Judges:
Julie Fitzpatrick, Assistant Director/Special Projects Coordinator
PA Downtown Center
Tom Hylton, Founder
Save Our Land, Save Our Towns Inc.
Sidney R. Kime, Jr., RLA, FASLA, Studio Director
The ELA Group (Lititz)
Scott Page, Principal
Interface Studios (Philadelphia)
Doniele Russell, Deputy Director of Community Development
Lawrence County
Jim Segedy, FAICP, Director, Community Planning + Design
The Planning Guild
Kim Wheeler, AICP, Deputy Director
Lycoming County Planning & Community Development
Peter Wulfhorst, AICP, Extension Educator
Pike County Extension, Ag Entrepreneurship and Economic & CD Extension Team