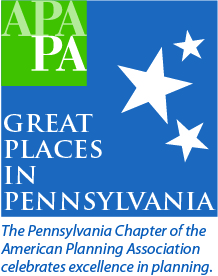 Congratulations to the 2015 Great Places in PA Award Winners!
The Pennsylvania Chapter of the American Planning Association is proud to announce our Great Places for 2015 in two categories: Great Neighborhoods and Great Public Spaces. Great Places are unique, memorable places that work not only for their community, but as a model others want to emulate – places of exemplary character, quality, planning, identity, cultural interest, and community involvement with a sustainable vision for tomorrow.
---
Neighborhoods
Media Borough, Media
Media Borough has been the seat of Delaware County since 1850, when it was formed out of centrally-located rural land to serve residents from all corners of the County. With ties to William Penn and original English settlers of Southeastern Pennsylvania, the town benefits from a unique Quaker heritage and a legacy of community engagement, which celebrates social inclusion and diversity.
Media has great diversity in terms of age, income and ethic identity. Residents are drawn here because of this diversity and Media's quiet and desirable small-town "feel". Media is a pedestrian-friendly town where people can walk and bicycle downtown to grocery stores, shops, schools, restaurants, and businesses. For a relatively small area, it has an extensive public transit infrastructure, including trolley, bus, and regional rail connection. A green community, Media Borough and its residents have supported many sustainability projects, including green infrastructure projects that beautify the parks and neighborhoods.
---
tacony, Philadelphia
Beginning its resurgence as one of Philadelphia's great communities Tacony is a historic gem found in the city's northeast section. It's one of the oldest and continually occupied communities in the city, giving it a long historical legacy that is alive and well today.
The underlying constant in Tacony is the Historic Disston Estate that is the historic and architectural center of Tacony. Tacony is well connected to the Philadelphia region and offers every form of transportation for every person.
The most telling sign of Tacony's revival are the new store fronts along its main commercial corridor. These are completed using a combination of funding from property owners, the Tacony CDC, and the City of Philadelphia's store front improvement program. This helped stabilize Tacony by keeping several destination businesses in Tacony and attracted new businesses including a cafe and a craft pizza parlor.
---
Public Spaces
Clearview Common, Mt. Lebanon
Clearview Common is located in the heart of the Uptown Central Business District on Washington Road in Mt. Lebanon. At just over 1/3 of an acre and once known as the Clearview Loop, the park occupies what was once an important transportation crossroad for the former trolley line that paved the way for Mt. Lebanon's development as one of the first streetcar suburbs. Redesigned and reinvented through an extensive public process, the space now serves as an accessible green space where employees of nearby businesses, residents, and visitors can take a short break to read a book, enjoy lunch or the company of a friend.
Clearview Common serves as a focal point for numerous community events such as First Fridays, Plein Air, Light Up Night, Last Saturday Cinema, Winterfest, Ultra Party and more. Visitors to the park will soon be able to take part in yoga events and Crossfit style trainings. Public art is also envisioned that will celebrate Mt. Lebanon's diverse population and further enhance the public experience of this community asset. In the warmer months it is not uncommon to see children enjoying the cooling spray of the fountain. Clearview Common is the public space that provides the Central Business District, residents, visitors, and community with a sense of place that strengthens the community by providing a place that acknowledges the importance of the trolley era in the community's past and by providing a place to create memories for the future.
---
Market Square, Pittsburgh
Market Square has been the center of Downtown Pittsburgh since the original street grid was laid out in the late 1700's. Over the past two centuries, the 1.5 acre square was modified as the city matured around it, oscillating between an open space and a site for market buildings. Ten years ago roads fragmented Market Square into quadrants, speeding cars and buses made the square dangerous for pedestrians, and inefficient lighting and dense tree cover encouraged illicit activities.
Today, Market Square is a vibrant, cohesive, flexible, and pedestrian-oriented oasis in the dense urban fabric of Downtown Pittsburgh. Market Square promotes a wide range of programing. The square is like a gallery, where people and events are the featured exhibition. On any given day, the space might be transformed into a market, a performance space, or a festival.
---
The oval, Philadelphia
Eakins Oval is an eight acre swath of public space located in front of the Philadelphia Museum of Art in downtown Philadelphia. The Oval hosts the city's most iconic events including Welcome America's July 4th Party, Made in America, and numerous charity runs/walks. Despite significant foot traffic through the site, Eakins Oval was critically underused for years.
In 2013, the Fairmount Park Conservancy and Philadelphia Parks & Recreation transformed Eakins Oval into 'The Oval,' the new 'Park on the Parkway' with programing and activities for people of all ages. The Oval created a thriving pedestrian environment that serves as a connector between Parkway institutions and a gathering place and destination point for residents and visitors to enjoy park amenities and engage meaningfully in arts and culture-themed programing.
In its first two seasons, programing at The Oval ran 12 hours per day, five days per week, with movie nights, live music, award-winning food trucks, yoga, bike classes and much more.
---
A special thanks to our 2015 Great Places judges
Chair of Great Places Initiative: Pam Shellenberger, AICP, York County Planning Commission
Judges:
Julie Fitzpatrick, Assistant Director/Special Projects Coordinator
PA Downtown Center
Tom Hylton, Founder
Save Our Land, Save Our Towns Inc.
Sidney R. Kime, Jr., RLA, FASLA, Studio Director
The ELA Group (Lititz)
Scott Page, Principal
Interface Studios (Philadelphia)
Johnna Pro, Regional Director
PA Department of Community & Economic Development
Doniele Russell, Deputy Director of Community Development
Lawrence County
Jim Segedy, FAICP, Director, Community Planning + Design
The Planning Guild
Kim Wheeler, AICP, Deputy Director
Lycoming County Planning & Community Development
Peter Wulfhorst, AICP, Extension Educator
Pike County Extension, Ag Entrepreneurship and Economic & CD Extension Team