CAAP 2022 Statewide DEI Summit
February 15, 2022

-

February 16, 2022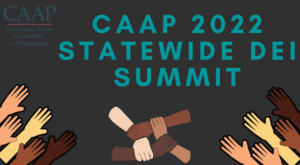 Central Section of PA Chapter of APA is excited to announce its partnership with the Community Action Association of Pennsylvania (CAAP) to present a virtual  CAAP 2022 STATEWIDE Diversity, Equity, and Inclusion (DEI) SUMMIT. The two-part event will occur on Tuesday, February 15th and Wednesday, February 16th from 1 p.m. – 4 p.m. What is even better, 5.5 CM credits (pending approval) for the two sessions of the DEI Summit, including the Keynote with Jerome Underwood, CEO of Action for a Better Community from Rochester, New York. 
Registration is free, so it is a great way to get involved in the DEI conversation in Pennsylvania!  Register now.
The purpose of the DEI Summit is to convene DEI practitioners and leaders from across Pennsylvania in a robust conversation about how to deepen the impact of DEI practices across the state, with the goal to increase equity of programs and services for all PA citizens. Jerome Underwood, Keynote Speaker, will address how DEI practices can help lift people out of poverty.  A panel of speakers will discuss ways to implement DEI practices more effectively, and breakout sessions to support leaders at different levels of the DEI spectrum will engage the audience in the conversations.  
Please join Central Section & CAAP for this exciting learning event. For more information about the summit, visit the CAAP website. Register now.