It's Community Planning Month!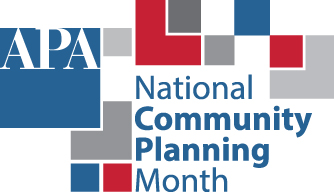 Governor Wolf, Local Governments join APA's national recognition of planners and planning
Governor Tom Wolf has proclaimed that October is Community Planning Month throughout the Commonwealth. The Governor's proclamation states, "…planning is a dynamic and collaborative process making Pennsylvania and its communities better by promoting sound land use, economic prosperity, health environment, and high quality of life…" 
Community Planning Month Proclamation
Please consider displaying a copy in your office, posting a copy on your website during October, and mentioning the proclamation at your advisory board meetings during the month.
Several local governments have issued their own proclamations recognizing Community Planning Month. County Commissioners in Centre, Juniata, Lancaster, Lawrence, and York County have already taken action to recognize the work of citizen and professional planners.
York County's proclamation highlights the importance of planning for, "… growing and shaping stable communities, promoting the efficient use of land, and protecting farmland and other natural resources through implementation of the County Comprehensive Plan." Lancaster County's proclamation describes the history and ongoing work of planning in the county, including: the formation of the County Planning Commission in 1958; the adoption of the first County Comprehensive Plan in 1975; and the work of over 300 citizen planners on planning commissions across the county.
The Mayor of the City of Altoona, the Mayor of the Borough of State College, and Board of Supervisors of Ferguson Township (Centre County) also have proclaimed October as Community Planning Month within their jurisdictions.  Ferguson Township's proclamation highlights the Township's commitment to, "being consistent with regional planning efforts, developing within the Centre Region Regional Growth Boundary and Sewer Service Area, preserving high quality agricultural land…and implementing Smart Growth principals such as Traditional Town Developments and Planned Residential Development."
If you would like to have your governing body or mayor designate October as Community Planning Month in your community, you can use the template as a place to start. If a proclamation is issued, please send a copy to info@planningpa.org .
National Community Planning Month has been celebrated since 2006. The American Planning Association (APA) describes the purpose of as, "…highlighting the role of planners and the importance of good planning in our communities."  APA theme for 2017's National Community Planning Month is Innovation in Planning.
One part of the celebration is the recognition of Great Places in America. These places, neighborhoods, and trails recognize the positive impacts of best planning practices. There are 14 nationally recognized great places in Pennsylvania and an additional 23 that have been designated by Pennsylvania chapter of APA. Examples include: the West End Theatre District in Allentown, Broadway in Jim Thorpe, Fairmount Park and the Reading Terminal Market in Philadelphia, Mellon Square and Point State Park in Pittsburgh, and the Great Allegheny Trail in western Pennsylvania.  Please download a list of all of the Great Places.
As you know, The Pennsylvania Chapter of the American Planning Association is holding its annual, statewide conference at the Penn Stater Conference Center, near State College, on October 22-24th. Over 500 public- and private-sector planners are expected to attend the conference with features more than 40 workshops, mobile tours, and events focused on ways to make our communities better places to live and work. Planners earn continuing education credits for many of the workshops offered at the conference. We hope to see you there!